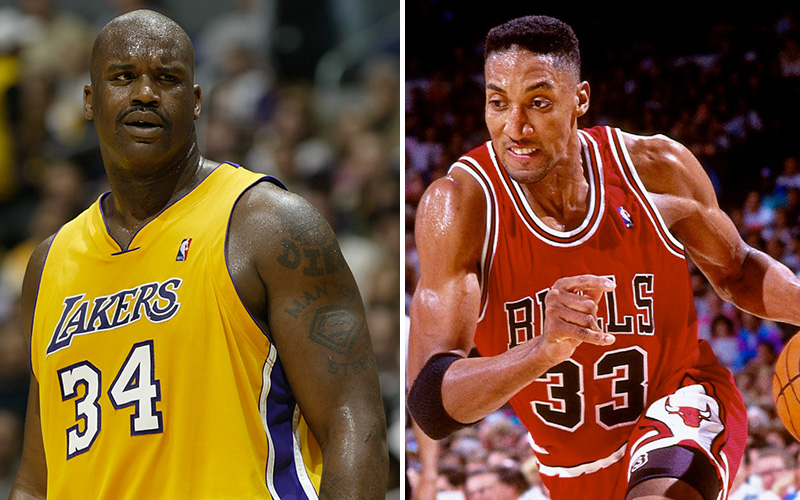 Someone please take over Shaquille O'Neal and Scottie Pippen's social media accounts right now.
The two NBA legends have been going to war with each over Instagram the past few days and it's apparent that their beef is real.
It all started when Shaq posted a pic of the best Lakers of all time vs. the best Bulls of all time and said that the Lakers would easily beat the Bulls by 50 points.
"We would beat em by fifty, what you think? Let me know and don't hold back," he wrote.
Scottie Pippen caught wind of Shaq's remarks and fired back telling Shaq that he doesn't do hypotheticals, and pointed out that the Bulls won six titles, while Shaq only claimed three in L.A.
"Sorry @shaq but I don't get caught up in hypotheticals. All I know is we won 6 titles, twice the amount you claimed while in LA…"
This only caused Shaq to go in even harder on Scottie, giving Michael Jordan all of the credit for winning the six championships and labeling Scottie's performance as being "OK," comparing him to sidekicks like Robin from Batman and Ma$e from Bad Boy.
"Sorry @scottiepippen I don't believe in hypotheticals either, but I seen most of those final you did ok , but this guy did most the work #youwereok steve kerr and Ron harper deserve more credit than you , remember I WAS BATMAN YOU WAS ROBIN , I was PUFFY YOU WAS MASE…"
Scottie responded making fun of how horrible Shaq was at making free throws.
"Easy big fella… if only you were as good at free throws as you are talking smack! @shaq"
And just when you thought it couldn't get any worse, the two continued to take jabs at each other, with Shaq posting photoshopped photos of Pippen, and Pippen calling Shaq out for being a sidekick to his former teammates, like Kobe Bryant, Dwyane Wade, Lebron James and more.
Check out the rest of their Instagram war below:
Be the first to receive breaking news alerts and more stories like this by subscribing to our mailing list.