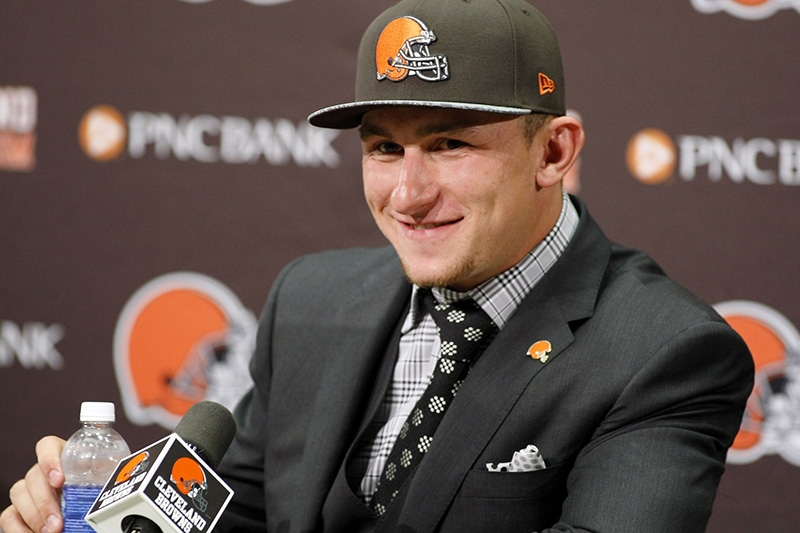 Another day, another celebrity in rehab.
Cleveland Browns quarterback (and Drake's BFF) Johnny Manziel has entered a treatment facility to "improve" himself, acccording to several media outlets, including ESPN. Manziel's advisor Brad Beckworth said in a statement:
"Johnny knows there are areas in which he needs to improve in order to be a better family member, friend and teammate, and he thought the offseason was the right time to take this step … On behalf of Johnny and his family, we're asking for privacy until he rejoins the team in Cleveland."
Browns general manager Ray Farmer also released a statement on the matter:
"We respect Johnny's initiative in this decision and will fully support him throughout this process. Our players' health and well-being will always be of the utmost importance to the Cleveland Browns.

"We continually strive to create a supportive environment and provide the appropriate resources, with our foremost focus being on the individual and not just the football player. Johnny's privacy will be respected by us during this very important period and we hope that others will do the same."
It's unclear at the time what exactly Johnny is being treated for, but the NFL star is known for his hard-partying and drinking habit.
ESPN reports he is expected to be in rehab at least a few weeks, but the the amount of time depends largely on what doctors recommend.
Manziel is reportedly voluntarily entering treatment, and a "source" said he is said to have informed his friends and family last week that he wants to "figure out his value system."
Another source told ESPN that a casino in Las Vegas offered Manziel six figures to host a Super Bowl party, but he declined.
Big kudos to Johnny for trying to get his life together.
Be the first to receive breaking news alerts and more stories like this by subscribing to our mailing list.