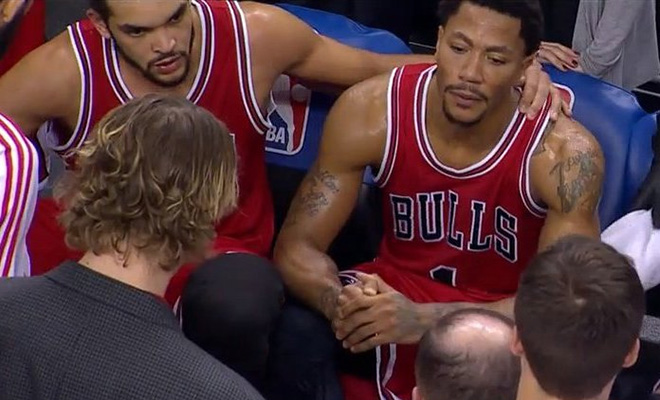 Joakim Noah is fed up with all the talk surrounding his boy Derrick Rose.
In his second game back from sitting out two years due to ankle issues, Rose suffered a "minor" hamstring injury last night in the middle of the Chicago Bulls' game against the Toronto Raptors.
The injury happened with less than two minutes left on the clock in the fourth quarter. Rose turned over the ball and fell to the floor before limping back to the bench.
"I guess it's cramps in my hamstrings," Rose told reporters after the game. "But I think it's minor, and they decided to pull me out." He added, "I don't think it's that serious … Just ice it, stim, see if I can practice [Friday] and give it a go Saturday."
Rose said he had no idea what happened, but he's trying his best to keep his head up.
"Missing two years, you're just going to fall for no reason, I guess, man," he said. "I'm just trying to work every day, put in consistent work every day and don't lose any confidence with these little setbacks."
Before his fall, Rose had put up 20 points, going 5 of 14 from the floor, and he managed to grab four assists, three rebounds and five turnovers.
The Bulls went on to win the game, 100-93, and afterward, Joakim Noah defended his teammate and expressed how "frustrated" and upset he was with how the media (particularly a Chicago Tribune sports columnist who was overly critical of recent comments made by Rose) was portraying him.
In short, everyone — the media and fans alike — just needs to (in Joakim's words, verbatim) "relax" and "chill the fuck out."
From CBS Sports:
"We're a group that's gone through a lot," Noah said. "And it's just, looking at it as a teammate, it's just frustrating because I feel like he's sometimes portrayed as something that he's not. You don't come back from the injuries that he's coming back from without unbelievable commitment, you know what I'm saying?

"I'm just growing and just watching the power that you [media] guys have, sometimes it's just you guys can really portray somebody as something that he's not," he continued. "It's just that, to me, that's a little disappointing. Just because I know how much he cares about this game. I see it every day. I think we're all in this together and this is not a one-man team, but at the end of the day, we need him. We need him.

"I just, I don't want to see him down. I know sometimes it's frustrating, you got injuries, you got tweaks. Every time something happens to him, people act like it's the end of the world. And that's fucking so lame to me. Relax. Like, OK, he's coming back from two crazy surgeries. Obviously we're being conservative with him, and when things aren't going right, he's got to listen to his body more than anybody. So everybody needs to chill the fuck out. I mean, I'm sorry for cursing, but I'm really passionate. I don't like to see him down. And he doesn't say that he's down, but I don't like it when, like, people portray him and judge him. 'Cause it's not fair to him. It's not.

"We're going to be just fine. We're going to be just fine. We just got to take it as — just, everybody needs to chill out. Chill out."
You hear that everybody? CHILL. OUT.
Be the first to receive breaking news alerts and more stories like this by subscribing to our mailing list.