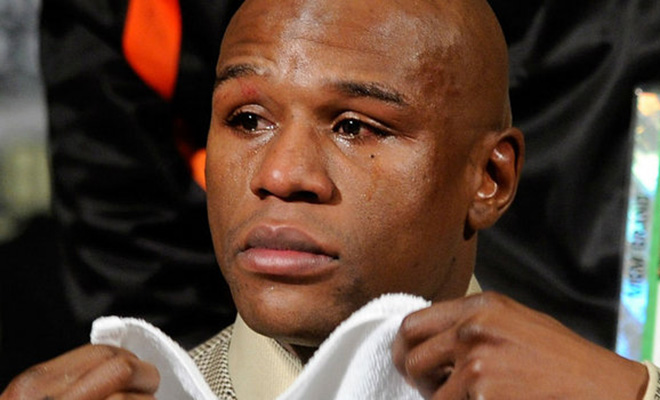 Reading is fundamental. That is, unless you're Floyd Mayweather Jr.
50 Cent took to Instagram earlier this week and challenged Floyd Mayweather to read one page of a Harry Potter book, without messing up, in exchange for a $750,000 donation to charity.
Later, Fiddy posted another Instagram video, saying talk show host Jimmy Kimmel would air the challenge and they would make it easier for Floyd, a high shcool drop-out, by changing the book to Dr. Seuss' "The Cat in the Hat."
Friday morning (Aug 22) on Power 105's popular morning show "The Breakfast Club," hosts Charlamagne Tha God, DJ Envy and Angela Yee were discussing the Fiddy-Mayweather beef when Charlamagne revealed he had proof that Mayweather struggles with reading.
Charlamagne then aired a recent clip of Mayweather reading a radio drop for the station, or at least he tried to, if you can even say that.
Floyd never even really gets past the first few lines and the structure of how he reads is all over the place. It's very uncomfortable to listen to, honestly.
Here you have a guy who makes damn near $100 million a year for punching people in the face, and he can barely read the words on the checks he receives. SMDH.
LISTEN HERE:
Be the first to receive breaking news alerts and more stories like this by subscribing to our mailing list.