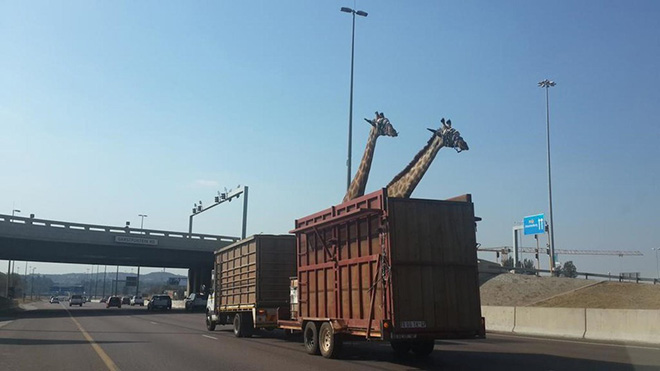 A giraffe has reportedly died after hitting its head on a low-hanging highway bridge in South Africa.
The image above, taken by a Twitter user, shows two giraffes being transported in an open-air truck bed on Pretoria's N1 highway just moments before the impact, which was seen by a number of people. The giraffe's owner confirmed to a local reporter that the animal had died, apparently instantly.
"All we can ascertain at this stage is severe head trauma. We are continuing our investigation with the view to possibly lay criminal charges against those responsible," Rick Allan of the Society for the Prevention of Cruelty to Animals told Johannesburg's Eye Witness News.
Owner of the #giraffe that was killed after hitting head on bridge said animal craned his neck."We went through lots of other bridges"#citi

— Carla Coetzee (@CarlaCoet) July 31, 2014
Took this pic on the N1 earlier.Just heard one Giraffe passed away! Apparently due to head trauma! So sad! @Radio702 pic.twitter.com/RNCMdALgl3

— Wingate Road Runners (@wingaterunners) July 31, 2014
Look how low that bridge is and how tall the giraffes are. Who thought this one through? I wish I hadn't seen this. pic.twitter.com/as2jJkIwpv

— Pabi Moloi (@PabiMoloi) July 31, 2014
"The way that these giraffes were being transported was incorrect and not up to standards," Allan said in a separate statement to NBC News.
"Their heads were above the vehicle which meant that one of them cracked their head on the bridge," Allan added. "That's something we are very concerned about and we will be looking at a prosecution under animal cruelty legislation."
One witness, Instagram user pabimoloi, wrote in a post: "Saw two giraffes being transported to Pretoria on the highway today. Not sure what the regulations are but as they were going under a normal highway bridge, I saw one of the giraffes hit its head. It was so terrible to see. Hope they got wherever they were going okay."
Pabi Moloi, a South African TV and radio presenter, said in a later interview with Mashable that the incident will haunt her for a long time.
"My cousin and I were driving in Pretoria on a busy highway when I spotted a pair of giraffes in the back of a truck. I whipped out my phone to take pictures of this, since it isn't a very common thing to see in the city. As I was getting shots the truck went under a bridge and suddenly one of the giraffes hit its head HARD on the concrete.

"The sound was so loud that my cousin, who was driving, asked me if there was someone shooting because she thought she'd heard a gunshot! That is how loud the impact was from the animal's head smashing into the overhead bridge. I quickly posted the pictures and the story on my social media. Soon the news had been alerted to the story and were reporting that the truck had in fact broken down.

"We saw in the rear view mirror that the truck had moved to side of the road and had stopped. Only one giraffe was still standing. That sound of a skull being hit and the force with which it threw the giraffes head forward is something I won't easily forget."
Several users on social media pointed out the similarities to an opening scene in "The Hangover Part III," in which Zach Galifianakis' character Alan accidentally decapitates a giraffe while transporting it on the highway.
That is not how you transport giraffes. This is how you transport giraffes:
h/t: Mashable
Be the first to receive breaking news alerts and more stories like this by subscribing to our mailing list.