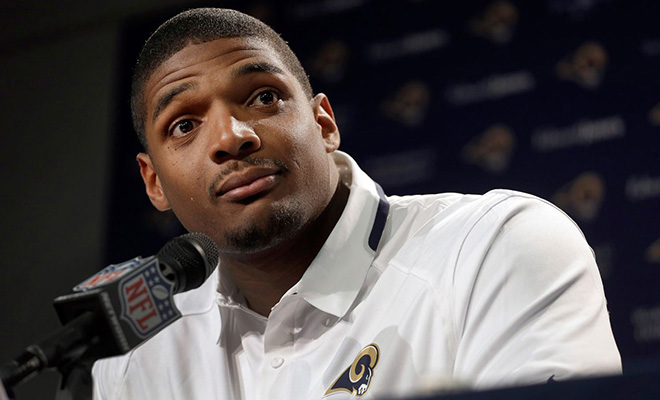 The Oprah Winfrey Network "documentary series" (which is just a fancy word for reality show) that was set to follow the NFL's first openly gay player Michael Sam has been postponed indefinitely.
OWN and reps for the newly drafted St. Louis Rams player made the announcement that she show had been called off last Friday (May 16), just two days after the news of the reality show was released.
"After careful consideration and discussion with the St. Louis Rams, 'The Untitled Michael Sam Project' has been postponed, allowing Michael the best opportunity to achieve his dreams of making the team," OWN president Erik Logan said in a statement.
"OWN is about elevating and empowering people to achieve their best. It's clear that we, along with the world, recognize the opportunity that Michael has in this moment. We will continue to support him in his journey to earn a spot playing for the Rams."
Touted by Logan as a "historic moment in professional sports," the docuseries was to follow Sam with a camera team at training camp as well as his personal life.
But Sam's agent Cameron Weiss said postponing the series would give Sam the chance to work during his first year in the NFL without any distractions.
"After meeting with the Rams we felt it is best to postpone the project," Weiss said. "This will allow for Michael to have total focus on football, and will ensure no distractions to his teammates. Everybody involved remains committed to this project and understands its historical importance as well as its positive message."
In the days leading up to the show being called off, sports writers and even NFL players alike spoke on how bad the idea was to begin with.
Former NFL QB Shaun Thing told TMZ Sports that though he's proud of the guy, he believed Sam's show would seriously hurt his chances of actually making the team. "After what happened with Tebow, the last thing an NFL team wants is a media circus. They just want to go about their business and focus on winning."
King also said he believed the teams may have heard about the show before the draft, which could have been one of the reasons behind the former University of Missouri defense end falling to the 7th round. "I had him pegged as a 5th round guy. I think the reason he dropped is because teams are afraid [of things like the reality show]."
King added, "I'm happy he got drafted. I support Michael Sam … but I think the reality show is a mistake."
ESPN.com writer Jason Whitlock — who calls himself a supporter of Sam, and a "reformed homophobe" who "believes the equality of black and brown people is connected to the quality and freedom granted to gays and lesbian" — wrote that Sam's decision to do the reality show was a "gigantic tactical error for Sam and his supporters within the LGBT community."
But why?
Oprah and her foundering TV network do not care about X's and O's. They care about salacious and sensational human drama and the kind of XOXOXs that take place in the bedroom. For context, OWN is the documentary-series home for Lindsay Lohan, the child actress-turned-serial drug-rehabber. That is not written to suggest OWN does not do and aspire to do high-end TV journalism (Lance Armstrong interview). It's written to imply that even Oprah's standards cave to the demands of Nielsen ratings.
Deadspin columnist Drew Magary wrote:
Sam just pissed away a whole lot of the goodwill he'd built up for himself these past few months. They can class up the announcement all they like. They can call it a "documentary" series even though it's a dirty little secret that even acclaimed documentary filmmakers will coach subjects and have them do multiple takes. They can do all that and it still won't scrub away the fact that reality shows are fucking beat and no one worth a shit bothers to do them.
He went on to say that reality shows are "always a transparent and pathetic excuse in self-branding" and also talked about his skepticism on the kiss Sam shared with his boyfriend on camera when he found out the news he was drafted:
Now that Sam has a reality show, can anyone believe with 100 percent confidence that the kiss he shared with his boyfriend on camera last Saturday was a real and true moment? They probably had a dress rehearsal. Sam was probably standing on a taped X to make sure he hit his mark. The whole thing was probably choreographed by Macklemore.
The Rams apparently didn't know about the OWN show before they drafted him, and even though it was reported that the NFL did have knowledge of the series, the league has since denied it.
A spokesman for the league said they "did not know anything about [Sam's OWN deal] until after the draft and have not agreed to anything about it."
Some of Michael Sam's new teammates were also upset about possible plans for the show, and there's been no word yet on whether the documentary will be shelved forever, but it if he's Smart, Sam will hold off on doing a reality TV (or "DOCU-SERIES") show until he actually MAKES the team.
h/t: ESPN
Be the first to receive breaking news alerts and more stories like this by subscribing to our mailing list.