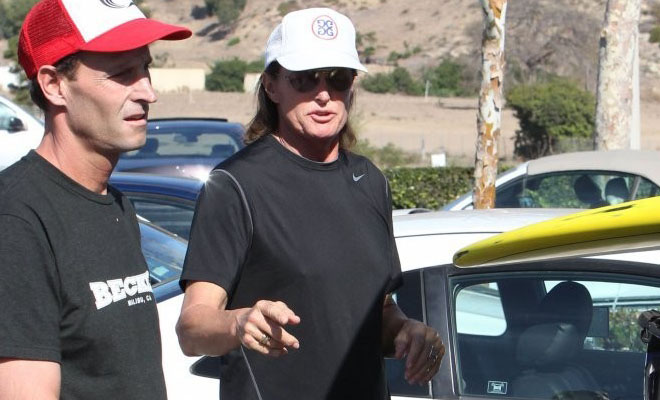 WHAT THE FAWK IS GOING ON WITH BRUCE JENNER, YOU GUYS?
Last December, TMZ broke a story about Bruce Jenner electing to have a surgical procedure to "smooth out" his Adam's Apple … which is something men who are in the first stage of gender reassignment have done.
But Bruce was adamant that he wasn't in the beginning stages of transitioning into a woman, telling the gossip site, "I just never liked my trachea."
OK. WHATEVER YOU SAY, DUDE, WHO NOW LOOKS LIKE A LADY.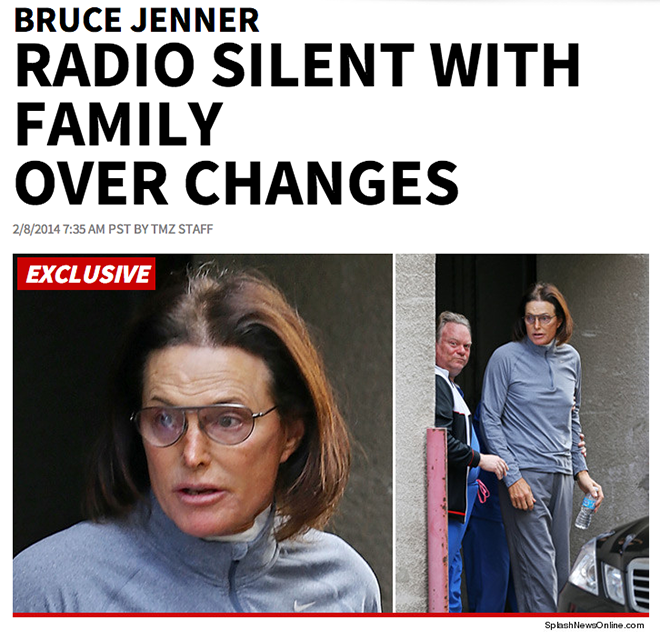 Now, two months later, TMZ is back with another exclusive report regarding Bruce Jenner and his "radical physical changes," which he's apparently keeping a secret from his family.
Those "radical" changes include growing out his hair and nails, and in pictures obtained by TMZ and the Daily Mail showing Bruce leaving a medical facility after his "laryngeal shave" surgery, it appears as though he's growing breasts too.
Obviously, this is the worst kept secret ever since we're even talking about it right now, but sources tell TMZ that Bruce is keeping the Kardashians in the dark, and no one on the show is discussing those "changes" he's going through, and there are apparently no plans to do so.
But that hasn't stopped everyone in the fam from being confused as f**k about what's going on with Bruce.
While Kris Jenner has denied reports that her estranged husband (they're "separated" now, remember?) is going through the process of becoming a real woman, the couple's daughters are (understandably) "very confused" by their dad's recent, all-of-a-sudden physical transformations.
Between the shaving his Adams apple, growing out his hair and nails, and generally looking like a pre-op MTF transgendered person … "Kylie and Kendall just don't know what to think," a source close to the Kardashian Klan told Radar Online.
"It's extremely confusing for them to grasp. There is just no denying Bruce's recent physical changes, and he does look more feminine," the source said. "It's been especially hard for 16-year-old Kylie because some of her friends have made jokes about Bruce's looks.
"The ridicule aimed at Bruce's looks on social media has also taken a toll on Kendall and Kylie. Kendall continues to spend time with her dad, while Kylie hasn't been hanging out as much with Bruce, unless it's for filming."
The insider continued, "While the boys haven't come out and asked their dad if he is transitioning to becoming a woman, it has definitely crossed their minds. However, as long as Bruce is happy, that is all they really care about.
"Brody has been spending a lot of time with his dad, and the two have never been closer. If Bruce did decide to become a woman, Brody and Brandon would absolutely support him. All they know is that their dad is in a really good place right now, and that is all that matters."
Meanwhile, a BRAND NEW report published on TMZ today talks about how Bruce is going through a mid-life crisis and is addicted to plastic surgery … contrary to their own previous reports suggesting that he wants to become a woman.
Family sources say the klan does not buy what increasingly looks like gender reassignment. They say Bruce is changing his look because of his "Michael Jackson-like obsession with plastic surgery."

They say he is struggling to re-gain his youth. They point to the fact that he's moved to Malibu, grown his hair long and had a ponytail for a long time, drives a Harley, and has changed his nose and neck.

We're told the family has actually counseled him against all the surgery, saying he was a good looking man to begin with, but he wouldn't listen.

They also echo the story TMZ posted Tuesday — that Bruce is "super manly," the family saying, "He loves sports, helicopters and cars."
Wow. That's one hell of an argument right there! Now we're all TOTALLY convinced that Bruce Jenner doesn't want to be a woman because "he loves sports, helicopters and cars," which is stuff only REAL MEN like.
Yeah right, get out of here with that. Loving sports, helicopters and cars makes you no more of a man than grabbing a mic and screaming into it makes someone a singer.
Be the first to receive breaking news alerts and more stories like this by subscribing to our mailing list.