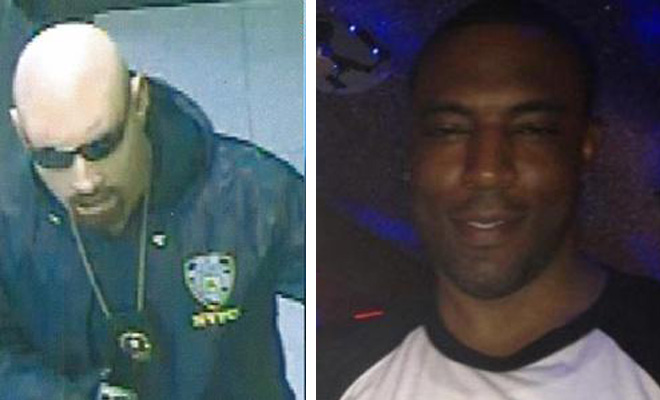 New York police say a group of 3 black robbers used lifelike disguises they purchased from a Hollywood special effects firm to turn themselves into white cops for a $200,000 stickup at a check-cashing store in Queens last year. And their get-ups were so good, that their victims reportedly had absolutely no idea that they were actually being robbed by black guys.
According to the New York Post, the perps — Akeem Monsalvatge, Derrick Dunkley and Edward Byam — spent two months plotting their robbery, and believed that disguising themselves as white men would help them avoid detection.
It was a brilliant idea, in theory, but the fact that we're writing about this means that they were caught, so apparently these guys didn't think everything all the way through, like most dumb criminals. And for the most part, all criminals are pretty dumb.
But anyway, Akeem, Derrick and Edward reached out to the well-known special effects company CFX Composite Effects for their disguises. CFX has done work for a ton of popular movies, including the recently released "2 Guns" and "The Wolverine," so the men knew they were going to get one hell of a job.
The men allegedly told company reps they needed the masks for a music video, and plunked down $2,000 for three masks. The accused crooks were apparently inspired by the 2010 Ben Affleck flick "The Town."

As in the movie, in addition to donning masks, the robbers dressed as cops, doused the crime scene with bleach to destroy DNA traces, and provided evidence to a victim to prove they knew where she lived in case she squealed.

Brooklyn prosecutors will introduce into evidence a photo of Monsalvatge wearing a T-shirt with a picture of one of the disguised men from the movie. He's standing next to one of his alleged cohorts in the photo.

Authorities said they also plan to introduce four clips from the film — over the defense's objections — showing the similarities between the reel- and real-life capers.

"They wore lifelike, custom-made, Hollywood-style special-effects masks that made them look like a team of white men," said prosecutor Maria Cruz-Melendez.
In addition to their white man masks, the suspects dressed up in cop uniforms, complete with fake badges, and robbed the Pay-O-Matic check-cashing store of nearly $200,000 after following frightened employee Liloutie Ramnanan as she walked in for work.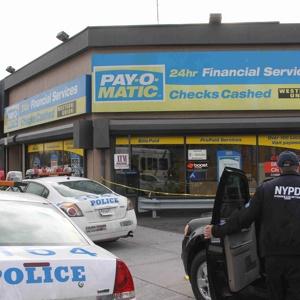 "I was scared for my life," the woman testified in court last week.
She said one of the men threatened her with a gun and a photo of her home to show her they knew where she lived. "I was scared he would have shot me," she explained.
After surveillance footage of the robbery appeared on TV, cops received a tip that the criminals in the video could be wearing high-end specialty latex masks, and as it turns out, they were.
The idiots were caught when police came across an e-mail one of the men sent to CFX thanking them for the "unbelievable realism" of the of the masks.
"I'm sending you this message to say I'm extremely pleased by CFX work on the mask," Edward Byam allegedly wrote. "The realism of the mask is unbelievable."
Before they were busted, police said the stupid (albeit clever, but still stupid) crooks had already blown some of their "inheritance" on expensive designer clothing from Gucci and Louis Vuitton, and one of the guys even spent $11,000 on a Rolex watch.
Be the first to receive breaking news alerts and more stories like this by subscribing to our mailing list.