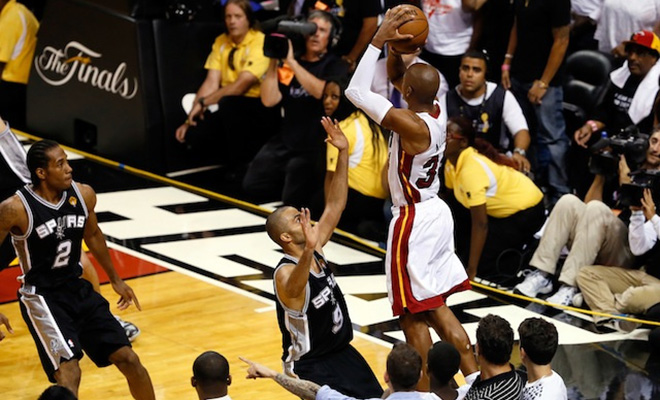 As the saying goes, "Jesus Saves," and Ray Allen — aka "Jesus Shuttlesworth" — definitely saved Game 6 for Miami last night.
In what could have been the last game of the 2013 NBA Finals, with Miami down three points and just under 13 seconds left in the nail-biting, back-and-forth fourth quarter, Ray Allen shot a last minute three-pointer that tied the game 95-95 and forced the Heat and the Spurs to go into overtime.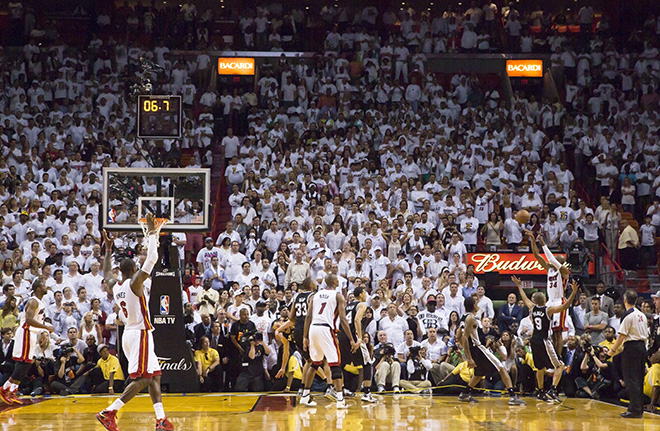 From Deadspin:
With the Heat's season hanging in the balance, Allen's shot was the culmination of a moment of delicious panic that played to perfection: LeBron James missed a three-pointer. Chris Bosh grabbed the rebound over Manu Ginobli. Bosh quickly tossed the ball to Allen. Allen knew he had to step back to get himself behind the arc.
It was Allen's only three-pointer of the game, and boy did he make it count. "It's going to be a shot that I'm going to remember for a long time," he said afterward.
From Yahoo! Sports:
"Whether [Chris Bosh] threw me the ball or not, I had to get myself in a position where I was ready," Allen said. "Once the ball came off the rim, I just knew get to the 3?point line. We need a three. Two points isn't going to cut it. So my mental checklist is really to have my legs ready and underneath me, so when the ball comes, if it comes, I was ready to go in the air.

"Once I get my legs there, I let the ball go. I'm going to give myself the best chance to make it."

James wasn't upset once he realized Allen was the one shooting.

"If it's not me taking the shot, I have no problem with Ray taking that shot, man," James said. "He's got ice water in his veins. Ray can be 0 for 99 in a game and if he gets an open look late in the game, it's going down. That's just the confidence he has in himself.

"It's the preparation that he prepares for every game. It's the confidence that we have in him. We've seen it before. We're happy to have him on our side. And this is the reason why we wanted him in games like this."
WATCH RAY ALLEN SHOOT THE MOST IMPORTANT SHOT OF THE NIGHT HERE:
Be the first to receive breaking news alerts and more stories like this by subscribing to our mailing list.