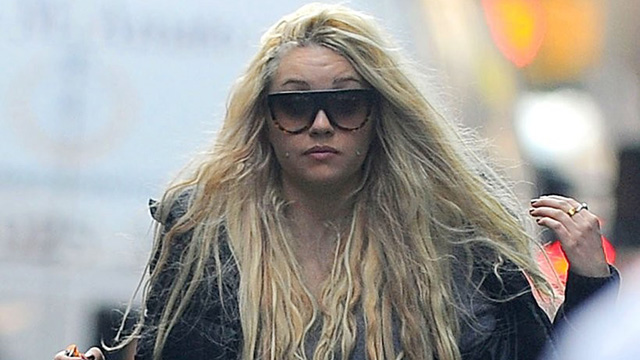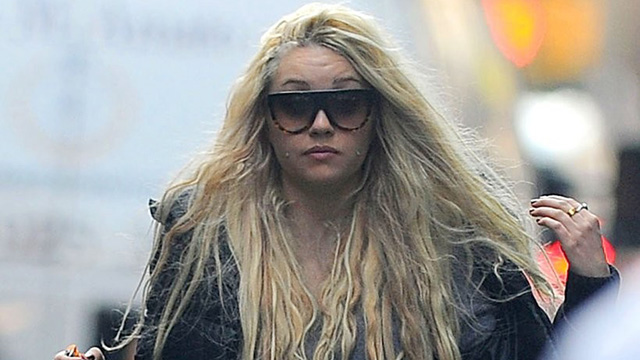 Amanda Bynes was arrested at her New York City apartment Thursday night after she allegedly threw a bong from her apartment window, NYC police said.
According to various reports, Bynes was arrested after the doorman spotted the singer smoking weed in the building's lobby and "behaving erratically." (No, really? Not this girl…)
By the time police arrived to the scene, Bynes, who was probably high out of her mind at the time, had returned to her apartment on the 36th floor, where police observed her tossing a bong out of the window.
TMZ reported that Amanda went "ballistic" when she found out she was under arrest, and she shouted "Don't you know who I am?" to the police as they took her into custody. The arresting officers noted in their report a "heavy" smell of marijuana and smoke inside the apartment.
Bynes was booked on charges of criminal marijuana possession, reckless endangerment and tampering with evidence (for the bong toss), but not before being briefly taken to a hospital for psychiatric evaluation. She's expected to spend the night in a Midtown police station and will appear in court Friday morning.
Amanda Bynes Tweets Topless Photos, Thinks She Could Stand to Lose 35 Pounds
The arrest doesn't come at a good time for Bynes, who is currently under three years probation for driving with a suspended license after she pleaded no contest to the charges (via her attorney) in Burbank, Calif. just two weeks ago. She also has a DUI charge pending in Beverly Hills.
The troubled actress has been pretty quiet lately, but this week has been particularly busy for her.
Over the weekend, Bynes was rejected from boarding a private jet in New Jersey after she tried to use Google as an official form of ID in lieu of her license, which she does not have right now. According to TMZ, she even screamed "I'm Amanda Bynes!" to the airport officials, but that didn't work, obviously.
Bynes also threatened to sue In Touch Weekly on Twitter the other day after the magazine ran an issue in which they describe an alleged party at her NYC apartment that paints a very disturbing picture of the former child star.
A man who identified himself as "Joe" claims he went to a party at Amanda's apartment, where he witnessed her lounging on a bare mattress, smoking what appeared to be (and probably was) a joint, and obsessively refreshing her Twitter feed.
Photographer Giovanni Arnold, who was with "Joe" at the party, said, "She probably gets so high that sometimes she won't even leave her house … One minute she's cool and down-to-earth. The next, she's totally different — indecisive, and she can't hold a conversation. Mentally, she's all over the place."
In Touch says Amanda told them she isn't crazy and she denied doing drugs, but Giovanni and "Joe" tell a different story.
They say the party raged until 5 a.m. when Amanda kicked everyone out, and Giovanni says he witnessed her doing cocaine, but Amanda denies that, telling In Touch, "They're the ones into drugs, so they bring drugs, but I don't do them."
Regardless of whether or not Amanda does drugs, "Joe" says her sparsely furnished apartment is a complete mess, with blinds hanging on three windows near her bed, and other windows in the apartment are spray-painted black. "Her living room is basically empty," described "Joe."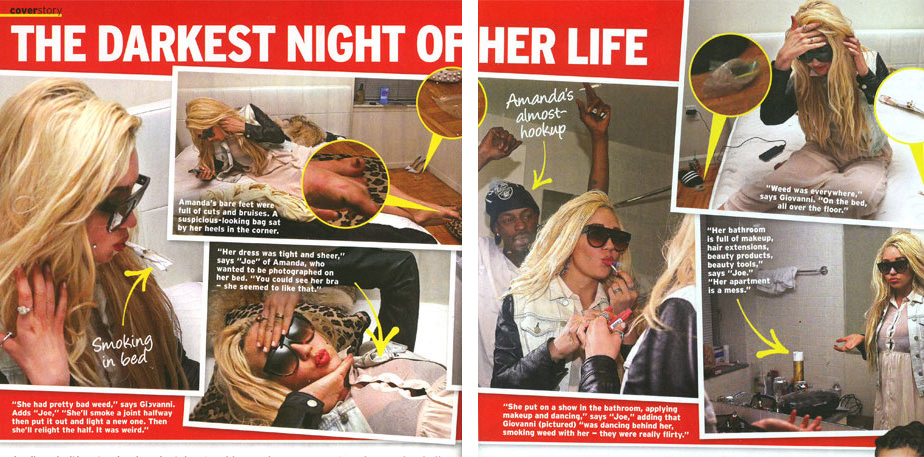 In Touch also has exclusive pictures from inside Bynes' apartment (above), of which Bynes is taking issue with, and she let loose a barrage of angry tweets Wednesday night — the day before her arrest — in which she threatened to sue the tabloid, and accused them of altering the photos they ran in their issue.
As posted on her Twitter account on May 22nd 2013:
"That's not my bed! Those aren't my toes! My toes are pedicured! I just did an exclusive interview with intouch last week, now they bought fake altered photos by that ugly black man in the photo or someone who knows him!

"They used an old shot of me on the cover with a bad angle of my old nose before I had surgery to reshape my profile and to remove the webbing from my eyes. I have to sue because that's not my apartment, those aren't my clothes! They morphed photos of my face onto someone's body to ruin my life!

"I have to make a big deal of this and sue because that's not me! I care about my appearance so I have to defend myself! I look like a different person now that I had surgery! Why did they put an old shot of me on the cover? I don't look like that anymore!

"I only want photos of my gorgeous new nose on the cover of tabloids and real magazines! The photos in this issue are fake and mocked up! I don't care enough to keep talking about it. Just assume that I f***ed the boyfriend of the editor of intouch because they f***ing hate me!"
In the midst of retweeting messages from her followers (one RT read: "People need to stop photoshopping @AmandaBynes okay" — it's hard to say whether or not he was joking), the troubled starlet also slammed In Touch editor Jessica Finn, using her signature "ugly face" insult, because everyone is "ugly face" to Amanda Bynes.
This ugly faced woman @jessicafinnnyc is the one who bought fake photos of me & put that picture that looks nothing like me on the cover!

— Amanda Bynes (@AmandaBynes) May 23, 2013
@jessicafinnnyc hey ugly

— Amanda Bynes (@AmandaBynes) May 23, 2013
After realizing she's fighting a one-sided battle, as Finn never responds to Amanda's tweets, Bynes then tried to pick a fight with blogger Perez Hilton, tweeting:
"The only thing sadder than your ugly face still writing stories about me is the fact that you think I'd even step foot in a room with that ugly faced black man."
So not only is Amanda Bynes batshit fucking crazy, she's also apparently borderline racist. But she's most certainly batshit fucking crazy.
Meanwhile, in response to her claims that In Touch doctored the photos of her in her apartment, the tabloid released the following statement:
"The photos of Amanda Bynes inside this week's issue of In Touch speak for themselves. We at In Touch have done our due diligence and research on the photos and the article that accompanies them.

"In Touch has not altered or photoshopped these photos in any way. Additionally, the photographer has assured In Touch that these photos of Amanda were not altered or photoshopped in any way prior to the magazine obtaining them and they are, in fact, of Amanda Bynes taken at Amanda's apartment in New York City. All of Amanda's claims pertaining to the photos in this week's In Touch are false."
So, in other words, like I said, Amanda Bynes is batshit fucking crazy.
All jokes aside, this Amanda Bynes saga is slowly turning from "LOL look at Amanda Bynes, she so cray-cray!" to "OMG … what the hell is going on with Amanda Bynes?" Here's to hoping she gets it together, and soon.
Be the first to receive breaking news alerts and more stories like this by subscribing to our mailing list.