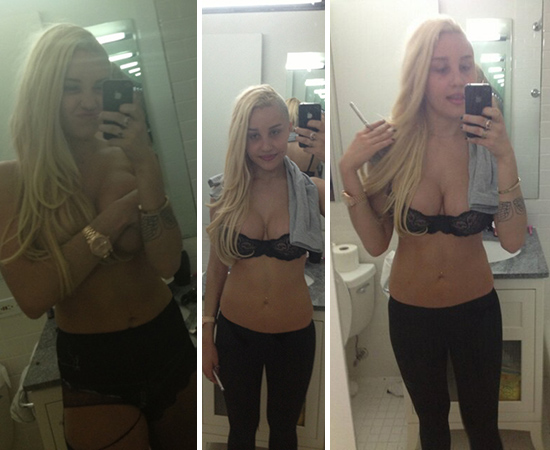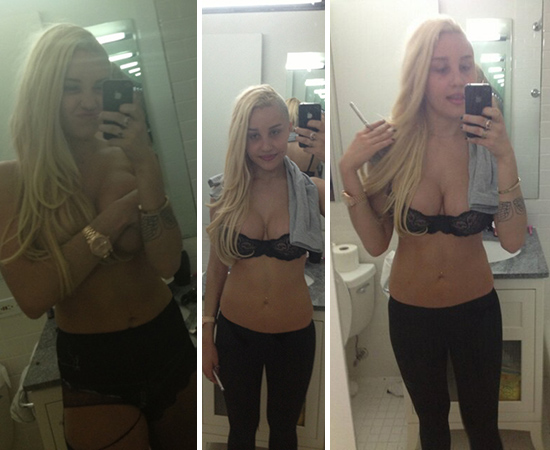 Amanda Bynes, everyone's favorite Twitter abusing nutcase, is still posting cryptic musings and photos of herself.
This time around, she's tweeting semi-nude pics of herself and is claiming that she needs to lose weight — a lot of weight. The pics feature Bynes in a black lace pushup bra and yoga pants. The photos appear to have been taken in her bathroom. In one of them, she is totally topless, using her hands to cover her breasts/nipples. Classy!
The 5'8" crazy pill consumer wrote:
About to put on makeup! I weigh 135, I've gained weight! I need to be 100 lbs! twitpic.com/cn7gtx

— Amanda Bynes (@AmandaBynes) April 30, 2013
That's right. Now that's she's mastered being insane, her goal is to be underweight. That'll send a great message to her fans. But wait, she probably doesn't have any of those anymore, so we're good.
Her latest post contrasts what she posted last week when she said:
All I want is a boyfriend who wants us to grow old and to get fat together.

— Amanda Bynes (@AmandaBynes) April 24, 2013
According to Health Check Systems, a woman of Bynes' height should weigh somewhere between 126 to 139 pounds.
But it doesn't end there. The bleach blonde also tells InTouch Weekly that she that she is not crazy, and that only an "ugly" person would say such a thing about her.
"I have no clue [why people call me crazy]. Every time I've heard it, it came from an ugly person's mouth, so I don't care. The only ones lying about me having a mental illness are people I don't talk to. I only have hot friends. They have my back until I die."
Sounds like all of that peroxide she put in her hair has seeped into her brain! The poor thing.