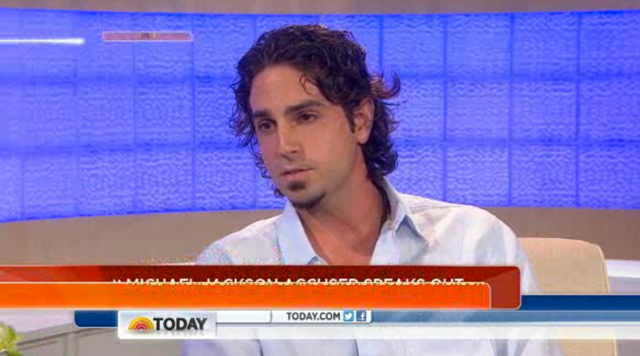 The confusing and head-scratching campaign that Wade Robson is launching against the Michael Jackson estate just got kicked up another notch now that Wade has sat down for an interview with the Today Show's Matt Lauer.
While Wade might be best known for being a choreographer for Britney Spears and 'NSYNC or as a judge on So You Think You Can Dance, he started out as a Michael Jackson protege. He was groomed by Michael Jackson for years and for a long time, Wade regarded the late King of Pop as a mentor figure.
He defended Michael vigorously against molestation allegations brought against him in 2005 and he pulled out that "Smooth Criminal" routine at every MJ tribute he was asked to.
Which makes his allegations of molestation all the more confusing.
In his interview with Lauer, the best that Wade could offer was that he "understands" how confusing this appears to be. But he insists his memories of the molestation weren't repressed. Rather, he just suffered brainwashing that made him not realize that it was molestation.
"This is not a case of repressed memory," said Robson. "I have never forgotten one moment of what Michael did to me, but I was psychologically and emotionally completely unable and unwilling to understand that it was sexual abuse."
WATCH WADE'S TODAY SHOW INTERVIEW BELOW
Um….sir, that might've made sense if you were all of 10 years old. Or even a teenager still. But when Wade took the stand in 2005, he was a GROWN ASS MAN. Wade gave testimony UNDER OATH stating that Michael Jackson never touched or sexually molested him in any way.
This is a point that Howard Weitzman, the Michael Jackson estate's lawyer, pounced on:
"Mr. Robson has adamantly denied under oath and in numerous interviews over the past 20 years that Michael Jackson ever did anything inappropriate to him. He now wants us to believe that he committed perjury at least twice and has been lying to anyone and everyone about Mr. Jackson since the early '90s so he can file a claim for money. Mr. Robson's transparent lawsuit comes nearly 4 years after Michael passed. His claim is outrageous and sad."
Wade falls back on psychology textbooks to claim that it's "typical" for child sexual abuse victims to only realize their molestation later in life.
Yeah, this shit sounds wack and fake. It's clear that Wade was coached and media trained very well but unfortunately, there's really no sidestepping the fact that Wade testified in Michael's defense under oath in 2005. Either he was purposely lying then or he's lying now. Regardless, it's clear that he's not an honest person.
If Wade hadn't taken the stand, then maybe this might've held a bit more weight. But given Wade's dire financial straits, this seems more like a desperate attempt to grab a piece of Michael's fortune.
Be the first to receive breaking news alerts and more stories like this by subscribing to our mailing list.