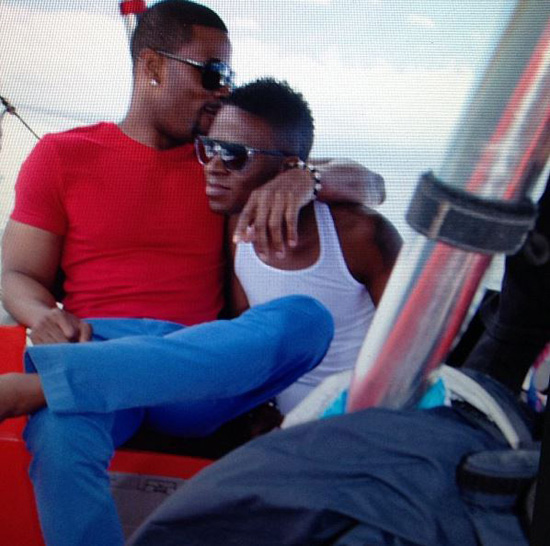 NFL free agent Kerry Rhodes has probably received more press this month than he has over his entire career … and it has nothing to do about his skills on the football field.
Exactly one week ago from today, Rhodes was forced to release a statement via TMZ saying that he is "not gay," after photos had surfaced the day before on MediaTakeOut.com showing the 30-year-old with his around around a "male friend."

NFL Player Kerry Rhodes Denies Being Gay, Calls Questionable Pics "Casual"
In his statement, Rhodes explained that the pictures of him and his "friend" — who he claimed was his former assistant — were simply "casual" shots that were taken during a "past vacation" in which his "entire business team" was present.
But after Media Take Out somehow got a hold of ANOTHER set of damaging photos of Kerry and his so-called "male friend," one of which shows him kissing the guy on the forehead, the speculation surrounding the NFL star and his sexuality grew even bigger.

More Intimate Photos of Kerry Rhodes and His Alleged Boyfriend Surface, Including One with a Kiss
And now that the other man in the photos, Kerry's alleged former secret lover, has opted to go on something of a media tour recently — in which he is basically outing Rhodes as a closeted homosexual (aka "down low brother") — it's going to be nearly impossible for the NFL player to try and clear his name now.
In separate interviews with Bossip and Baller Alert, Russell "Hollywood" Simpson talked about how he met Kerry Rhodes, and revealed that they were dating while Kerry played for the Arizona Cardinals.
Russell said he wasn't the one who leaked the photos of them together, but Kerry was definitely aware that they were being taken. Russell also made it a point to note that he is not a "jilted lover," he's just upset that Kerry tried to "play" him by going to TMZ and making that statement denying that he was gay.
Russell said that when MTO published the photos of them together, Kerry should have just kept quiet instead of "lying" and trying to prove to the world that he was straight.
Check out the excerpts from both interviews (and EVEN MORE PHOTOS of the two back when they were "together") below.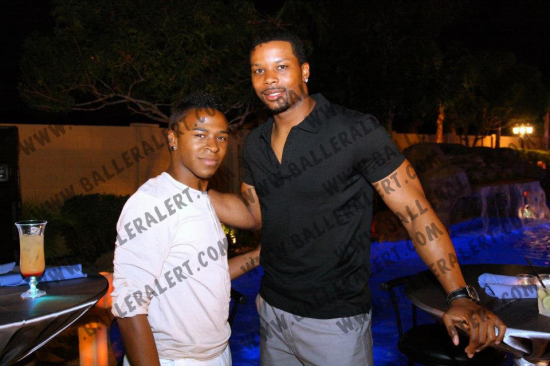 How Kerry Rhodes and Hollywood Met
From Bossip:

"I met him at an NFL training camp. A friend of mine was up there trying to get hired as a player's assistant and I kinda tagged along. I don't wanna be anyone's assistant and I basically helped my friend get to Arizona (Cardinals) to get a job. We went up the hotel suite and Kerry was up there. We talked and that was about it. I later went back to North Carolina and he called me wanting me to come back to Arizona to help manage his assistants and personal team. We started dating about 2 months after and then got in a relationship."
From Baller Alert:

"I got to know Kerry and we became very close. I moved in with Kerry at his home in Arizona. At first we were just friends and we were getting to know each other. Then we got into a relationship. We were in a relationship for a whole year. I was there, people knew who I was, they saw me as his top assistant. I handled everything for him. No one went to Kerry for anything."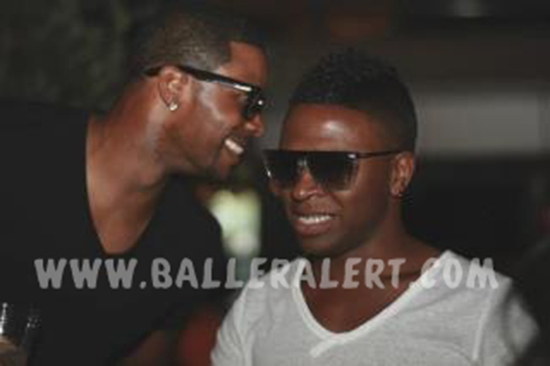 On Who Initiated the Relationship
From Baller Alert:

"Of course he came on to me. I'm too fabulous to come on to anybody. That's not what I do. I have a lot of men that come on to me. I don't come on to men because I don't know what time it is for you. I would never come on to a man. Honestly, a lot of gay guys are like me. A lot of gay guys don't come on to guys. It's always the other way around. It's always the manly ones. Of course I wouldn't come on to anybody. Yes, I thought he was attractive but I thought he liked girls."

"It did not take place instantly. I'm a classy b*tch. You have to show me what time it is and he did. I was with it. It took us almost two months to sleep together. He made the first move — as in kissing. Kerry says I was his first man he's been with. Doesn't matter, it still makes you gay."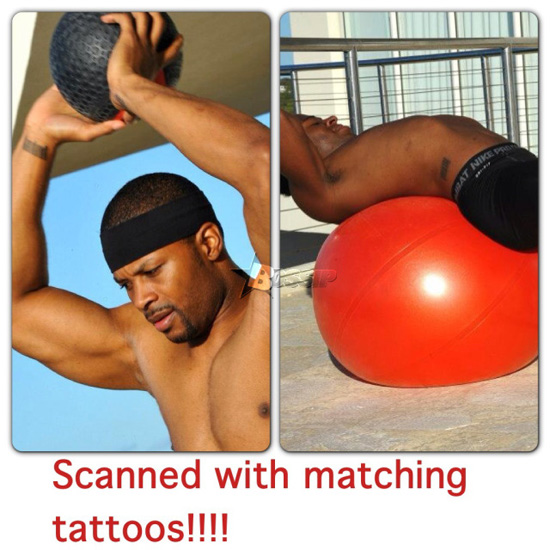 More on their "relationship," sex life, and the "benefits"
Bossip: What were your duties as Kerry's boyfriend? Did his teammates know about you?

Russell: I was like his wife. I ran the household and took care of all his personal needs. If anyone needed anything from Kerry they came to me! That's what Kerry loved about me. i didn't take no sh*t from nobody. Kerry is kinda a dumb athlete, like a dumb jock. So, I took care of things that he didn't understand. And yes, his teammates did know about me. It was kinda unspoken but I was at all his training camps and events. The other wives knew and loved me too. I was always there. It was no secret!

Bossip: How was your sex life with Kerry? Was he top or power bottom?

*laughs* It was great! It was very passionate because we were so in love. Of course he was the top! I'm not doing all that damn work! But, we were extremely close. It was very good and he put it on me!

Bossip: How long were you and Kerry together?

Russell: Well, I was the first gay man Kerry was with publicly. You can look at the photos and see were clearly together. We were together for about a year and two months. We were together for a while and in love.

Bossip: Did you benefit because of this relationship? What gifts did Kerry buy you any special gifts?

Kerry paid for everything. We had a very good life together. I always got any and everything I ever asked for. Vacations, red bottoms, the private jet in my video was us going to training camp together. I had a driver and he even gave me his Aston Martin. He later bought me my own car and because I'm not a dumb bi**h I made sure to get it my own name and he paid the whole thing off! He treated me very well. I will never talk bad about him in that way because he was really good to me.
From Baller Alert:

"We went on a lot of trips, out of the country, Hawaii, whatever. He loved me so much that he did spend a lot of money. He definitely took care of me."

"Kerry did do a lot for me. He bought me a lot of things. He bought me the new Infiniti truck. I'm the type of person, if you buy me something, you're putting it in MY name. If you're buying me something you're paying it off. He definitely did the TWO things. You're not going to buy me nothing and it still be in your name because then it's your car. You're not going to buy me nothing and leave me with the payments. I don't think so!"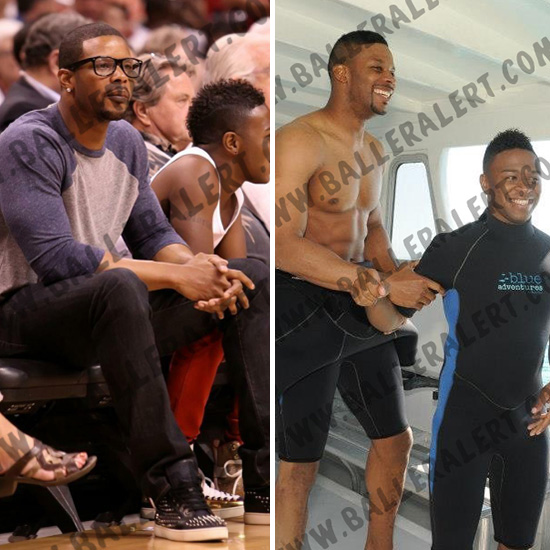 On the photos leaking and Kerry talking to TMZ
From Baller Alert:

"They said 'Well maybe he he loved him like a little brother. Listen, if he loved me like a little brother, he f**ked me like a wife!" and that's just me being real with you. People knew something was up but they didn't know. It was just not normal for a guy to be like we were. You can see in the picture. A picture says a lot of things. You could see in the pictures that it was something there.

"The first set of pictures, I don't know how they got out because I did not put them out. If you go on my Facebook page you will see the same pictures but I always crop him out because it was nobody's business. Now what pissed me off about the whole situation is when he and I stopped talking and the pics got out. He said that he was NOT gay. To me he shouldn't have said sh**. If you're not going to tell the truth, don't try to make me look stupid.

"This is what I say: You can play Nintendo, You play XBox, You play lottery, You Don't Play Hollywood! I think he made a comment that he's as straight as an arm. An arm has an elbow dummy! What really set me off is when he had Alton the assistant call TMZ, say he was Me and say Kerry and I are just friends, he's like my brother."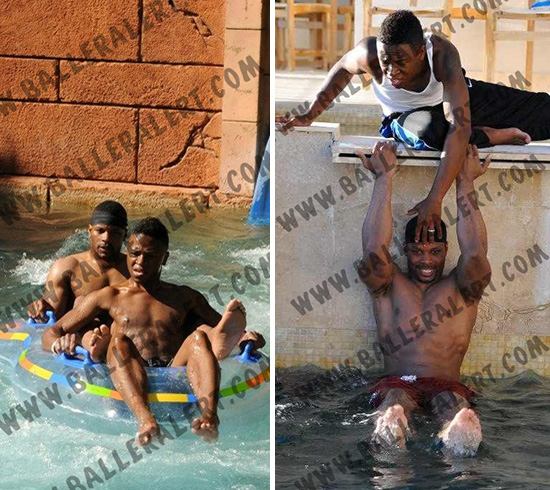 On other gay players in sports, and how Kerry reached out to him after the pictures leaked
From Baller Alert:

"I just want girls to know my sh** is for real! This sh** happened! You can think that you got a boyfriend and all that sh** but THIS sh** is for real! It happened. I think that a lot of girls are lost because they play football. That don't mean nothing. You'd be better getting yourself a boy cheerleader."

"This is how I work. I don't date boys with girlfriends and I don't date men with kids. I'm selfish. I'm not the type to go with the downlow brothers. Either you're down with me or you ain't. Kerry was NOT messing with girls when he was with me. He was with me every single day, all day long. I have pictures. I have text messages."

"You can sit around and think your boyfriend ain't doing nothing. He probably ain't doing nothing with another girl because he's probably with a boy."
Bossip: Did you ever encounter any other gay football players?

Russell: Well, I don't know. All of his teammates in Arizona (Cardinals) know about me. But you would see guys with a lot of male assistants who always surrounded themselves with men but it wasn't openly discussed. So I don't know if they were gay but you know…

Bossip: How did you feel when Kerry denied being gay? Did he reach out to you?

Yes he actually text me like "Hey baby, can you just not say anything about all this" but that's what I don't like. He's lying because he's trying to protect his free agency. He's not going to be one of those guys who come out in the league because he cares too much about that. But why is he lying?? LOOK AT THE PICS!! He loved me and now he's lying. That's why I put him out there because he came for me. I'm not here for fame. He wanted me to have a reality show because he said I was destined for it. His teammates said I had a great personality and encouraged me to be on TV. This was our life! This was real!

I had an engagement ring he gave me. Look at some of the pics and I am wearing a promise ring he gave me. We were in love and it was real. But now look at him! He's lying and looking like a real dumbazz. Why couldn't he just STFU and no even said anything. He had to deny it like I wasn't real. Like, I never existed. What the hell?? We filmed that reality show together, he has hours of footage of me and him together for the show. I have NOTHING to hide! I'm grown as hell and have nothing lie about.

Kerry Rhodes is gay. That's the truth.
And there you have it. The ball is in your court now, Mr. Rhodes. Or, rather, in his case, "the ball is in your field." Or, whatever.
Regardless, Kerry Rhodes has some serious explaining to do.
What do you think? Should Kerry Rhodes just go on ahead and come out of the closet now? Or … ?
Be the first to receive breaking news alerts and more stories like this by subscribing to our mailing list.