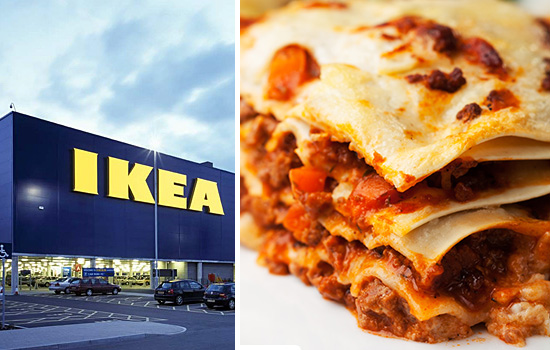 The popular furniture chain IKEA was forced to recall at least 17,000 containers of "moose lasagna" from its stores in Europe after traces of pork were found in a batch that was tested in Belgium.
A spokeswoman for IKEA said the product had only been on sale for a month before it was pulled off the shelves on March 22nd.
What makes this scandal even worse, is the fact that IKEA didn't announce the withdrawal to the public until a Swedish newspaper reported about it Saturday (Apr 6).
IKEA spokeswoman Tina Kardum admitted the company found out Friday that a follow-up test in Belgium confirmed that their moose lasagna contained 1.6 percent pork. "We have more information now. That's why we choose to inform now," she said.
Now. Like us, you might be wondering … 'WTF IS MOOSE LASAGNA?' and 'WHY ARE PEOPLE BUYING FOOD FROM A FURNITURE STORE???'
Well, to answer that first question, according to the Associated Press, moose meet is "common in Sweden though it's not typically used in lasagna." No official word on why "moose lasagna" is a thing, or why it was such a big deal that it had pork in it though.
No answer for that second question either. But what makes this "pork meat found in the moose lasagna" scandal even MORE worse (like it could already get any worse, right?) is the fact that this isn't the first time IKEA has had to recall food products from its stores.
Just six weeks ago, the Swedish furniture giant was caught up in yet another scandal over its food products when some of their meatballs tested positive for horse DNA in several European stores. A week later, they had to recall some almond cakes after tests revealed they contained a bacteria that is normally found in poop.
Dear IKEA: More furniture. Less food. Plzkthxbye.
Be the first to receive breaking news alerts and more stories like this by subscribing to our mailing list.