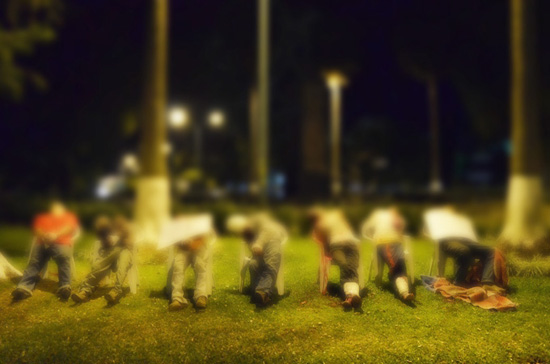 Mexican authorities say that the bodies of seven men were found sitting in plastic chairs on display along the side of a street in the Mexican state of Michoacan.
According to the Michoacan attorney general's office, the victims had all been shot in the head (execution style) and were placed individually in the sitting position in chairs on the side of the road near a traffic circle in the city of Uruapan, which is a known drug zone.
Shocking photos released to the media show a gruesome scene — all of the men, reportedly aged between 15 and 40 years old, are tied to the chairs by their hands and feet, and some have threat messages nailed to their chest with ice picks.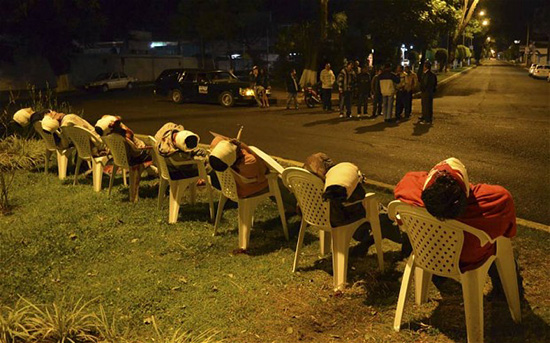 According to local authorities, a placard on one of the bodies, which were found early Saturday morning, read: "Warning! This will happen to thieves, kidnappers, sex offenders and extortionists."
Sadly, this wasn't the only instance of mass violence in Mexico. The night before in the neighboring Mexican state of Guerrero, armed men opened fire at a bar in Ciudad Altamirano, killing a total of seven people, including three off-duty federal agents.
The attorney general's office have no clear motives for these recent killings, but if you know anything about Mexico, one would assume that they were drug-related.
Mexico has an extremely bad name, as it is one of the most dangerous places to be with its heavy drug war, which has been going on for years among the drug cartels — large organizations that control major drug trafficking operations.
Mexico has seen a surge of violence in recent years attributed to drug cartels. After former president Felipe Calderon launched a nationwide crackdown against traffickers, drug violence escalated, and over the past seven years, an estimated 70,000 people have been killed in drug-related violence.
The country's new president, Enrique Pena Nieto, who took office last December, has vowed to put an end to the rampant murders that have tainted Mexico's image as a popular tourist destination and rattled investors.
While thousands of soldiers have been sent out to patrol the streets, the number of fatalities continues to rise.
Just earlier this month, a 13-year-old self-confessed hitman who had been arrested after he confessed to a series of killings, escaped from prison and was found tortured and killed shortly thereafter.
Be the first to receive breaking news alerts and more stories like this by subscribing to our mailing list.