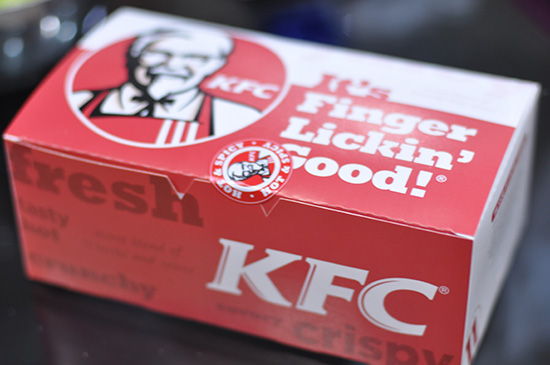 Fair warning: If you read the rest of this, you will probably never want to eat at KFC ever again. And eating fried chicken in general will be difficult until you figure out a way to erase the disgusting image (below) from your memory.
With that said, 19-year-old Ibarahim Langoo from the U.K. posted a shocking photo to his Facebook showing page a piece of chicken with what looks like a BRAIN inside of it.
Ibrahim and a friend were eating lunch in between classes at a KFC near their university when Ibrahim made the grisly discovery.
The pair were splitting a "Gladiator" box meal — two pieces of "original recipe chicken," a "100% chicken breast fillet burger," side, fries and a drink. His friend ate the fillet burger, while Ibrahim went for the two chicken pieces.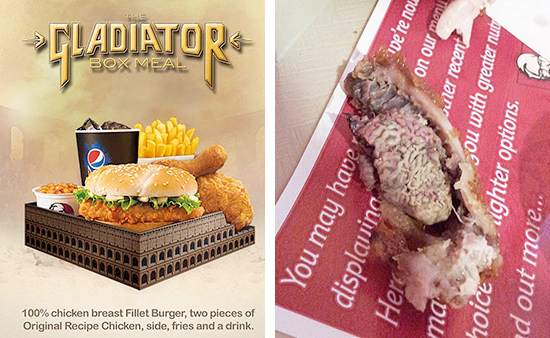 Ibrahim said: "I have a habit of picking the chicken off the bone with my fingers and as I pulled the second piece apart, I saw this horrible wrinkled foreign body. I threw it down onto my tray immediately. It looked like a brain. I suddenly felt grim and really sick."
He added: "I didn't want to pick it up as I couldn't bear to look at it. I was grossed out by the fact that I could so easily have eaten it without realizing. I just wanted to get out of KFC as quickly as I could. I still feel really sick and disgusted by it all now."
Ibrahim said that he went to the counter to complain, but the restaurant was so busy at the time, that he eventually gave up on trying to get a staff member's attention and left, but not before he snapped a picture of the repulsive "easter egg" hidden in his meal.
It wasn't until after Ibrahim's picture went viral on the Internet that he got a response from the company.
"KFC says they are sorry and are concerned to hear of my experience as they have 'rigorous standards' but I'm still not impressed," Ibrahim told UK newspaper The Sun. "I never want to eat KFC again – in Colchester or anywhere else. I'll eat chicken at home, where I can see how it's been prepared."
After examining the photograph, experts at the fast food chain believe that the organ was a chicken KIDNEY, and not a brain, as originally thought.
A KFC spokesman, who agreed that Ibrahim's finding was "unsightly," apologized on behalf of the company.
"Although we haven't received the product, it appears from a photograph that unfortunately on this occasion a kidney, and not a brain as claimed, was not removed in the preparation process. We're very sorry about Mr Langoo's experience and while there was no health risk, we agree it was unsightly."
The company also reportedly gave Mr. Langoo some vouchers for free meals … but we have a feeling he'll use them as toilet paper before he uses them to get more food from KFC.
Be the first to receive breaking news alerts and more stories like this by subscribing to our mailing list.