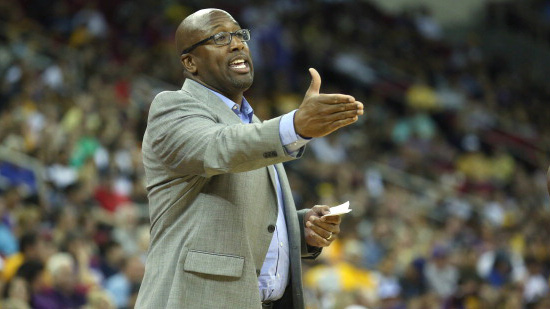 Los Angeles Lakers head coach Mike Brown was fired this week following the team's dreadful 1-4 start to the 2012-2013 NBA season.
The new Laker squad which brought in superstars Dwight Howard and Steve Nash to join Kobe Bryant so far failed to live up to the expectations of Lakers fans across the nation. Steve Nash has also suffered from multiple knee/leg injuries, which doesn't help the situation either.
The Lakers opted to pay the remaining three years on Mike Brown's 18 million dollar four year contract as if it were a simple tax for improving the teams play.
Now Lakers fans have turned their attention to the the race that will ensue for the head coaching job, and the zen master Phil Jackson is at the top of the list.
After leaving the Lakers at the end of the 2010-2011 season, many thought this would be the last of Phil Jackson. However, to the delight of Laker Nation, it seems that the Lakers are closer to re-signing the winningest coach in NBA history.
Kobe Bryant spoke briefly about the potential of being reunited with his former coach after the Los Angeles defeated the Golden State Warriors 101-77.
"You guys know how I feel about Phil," Bryant said, according to USA Today. "The one thing that's kind of always bothered me is that his last year (in 2011) I wasn't able to give him my normal self, you know what I mean? Because I was playing on one leg. That's always eaten away at me. The last year of his career I wasn't able to give him everything I had."
"He's too great of a coach to go out that way," Bryant said. "That's my personal sentiment. For me, it was just … I took it to heart because I couldn't give it everything that I had, because my knee was shot. That's always kind of bothered me."
The team has a few other candidates in the running for his replacement, but in the meantime Brian Bickerstaff will serve as interim head coach. Stll, Laker fans will surely have their fingers crossed for a return from Phil Jackson.
One thing's for sure, no matter who is hired expect Kobe Bryant's influence as a team leader to increase even further. If we were in the Lakers front office it might be time to consider having Kobe Bryant as the first player-coach in the NBA.
Let's be honest, most will remember Mike Brown's stint with the Lakers ending due to one of the meanest side-eyes captured in live sports history. (See below)
Hopefully the Lakers can pull things together quickly … or it will be a long season of rumors and drama in the locker room at the Staples Center.
Be the first to receive breaking news alerts and more stories like this by subscribing to our mailing list.