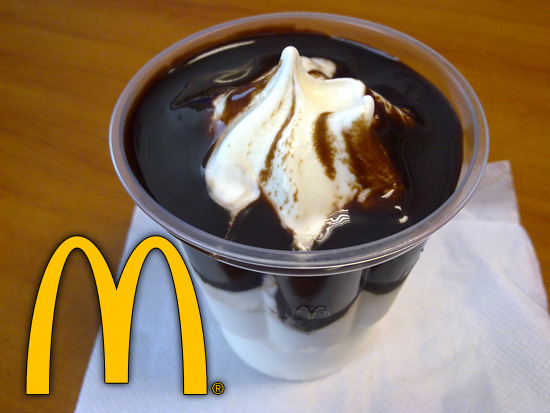 A Tenneesee man could spend up to a year in prison after he was convicted of assault for punching a McDonald's employee in the face for giving him a sundae with hot fudge on the bottom, instead of the top (like how it's supposed to be, thank you very much).
The incident occurred in February 2010, when James Wilson says he was visiting McDonald's one day for lunch.
"The food appeared to be right, but the dessert, it had chocolate on the bottom," Wilson told the eight-woman, four-man jury in Knox County Criminal Court. "The hot fudge should be on top. It freezes up when you get fudge on the bottom of it. I asked them to redo it."
Wilson has a point. Who eats fudge sundaes … with the fudge on the freaking bottom?!? It just doesn't make logical sense.
But the store's assistant manager, Brad Skelton, didn't see it that way, and he refused to make Wilson another sundae, with the fudge properly placed on top.
Skelton also refused to give Wilson a $0.10 discount, which would match the price of a plain sundae, and a verbal altercation ensued.
Skelton eventually gave Wilson his dollar back, and as Wilson headed toward the exit, Skelton darted toward a side door facing the exit, the Knoxville News Sentinel reported.
"I just wanted to make sure he actually (left)," Skelton said. "I took two more steps out the door, and he hit me in the face."
Wilson claimed that Skelton "charged" at him and called him a racial slur, and argued that he was "acting in self defense" when he punched Skelton in the face.
But the jury didn't buy Wilson's argument of self defense, and found him guilty of misdemeanor assault and disorderly conduct.
He was fined $1,050 and now awaits a September 27th hearing where he could possibly be sentenced to 364 days in jail.
Be the first to receive breaking news alerts and more stories like this by subscribing to our mailing list.