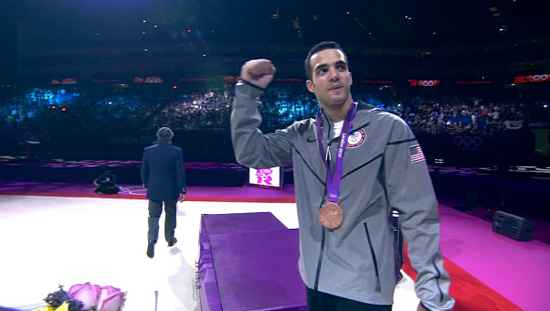 Attention young men of color: There is life beyond football and basketball.
That's the message that Danell Leyva and John Orozco sent with their celebrated appearance in the nail-biting Mens' All-Around Gymnastics event at the 2012 Summer Olympic Games in London.
After a shaky start for both Leyva and Orozco, Leyva managed to pull it together and score a bronze medal, making him the first Latino-American to do so in the event.
Poor John Orozco wasn't so lucky as he finished in 8th after fumbling badly on the Pommel horse once again, as he did during the team event.
Like Orozco, Danell's family plays both a central part in his success and raises questions.
Arriving in the U.S. as a refugee from Cuba, Leyva was largely raised by his stepfather Yin Alvarez, who, along with Leyva's mother, was a Cuban gymnast. But Alvarez's Olympic dreams were never fulfilled, so he poured everything he had into his stepson.
All that's been said of Leyva's biological father, Johan Leyva, is that he lives in Spain and communicates with his son by telephone. They've never met face to face, according to an ESPN profile on Leyva.
But if Danell ever felt any sense of loss, Alvarez's enthusiasm for all things Danell surely filled the gap.
You might have seen him on your TV doing this while Leyva performed: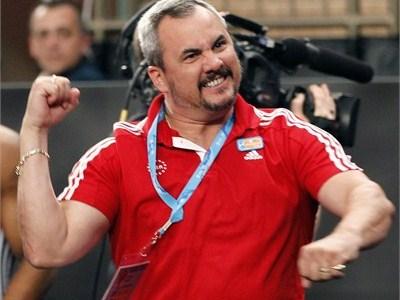 The relationship between Alvarez and Leyva reads like a Hallmark Father's Day card.
Although they're not blood related, Alvarez loves his stepson immensely, and pours all of his energy into helping Leyva reach the top.
The New York Times ran an inspiring piece on their relationship ahead of Leyva's performance at the Games today.
"I was a dreaming person, and people that dream, there's no room for them in Cuba, so you feel dead and more dead because you know things aren't going to get better," Alvarez said. "That's something me and Dani have similar. Even though he's not my real biological kid, we dream the same."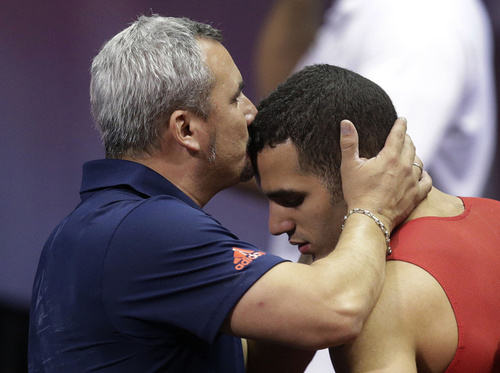 A huge congratulations goes out to Danell Leyva, Yin Alvarez and the United States, which hasn't taken home a medal in Mens' All-Around Gymnastics since Paul Hamm won the gold in 2004.
Be the first to receive breaking news alerts and more stories like this by subscribing to our mailing list.