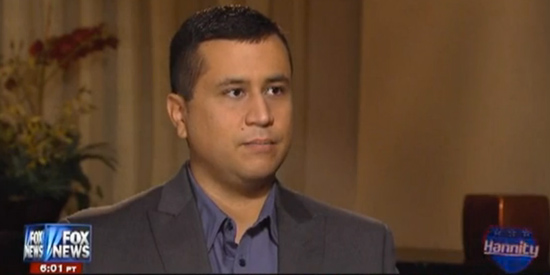 George Zimmerman, you low-down dirty snake.
President Barack Obama rode high on the Audacity of Hope during his 2008 presidential campaign, but it's safe to say that George Zimmerman is campaigning on the Audacity of Nope.
The man charged with murdering 17-year-old Trayvon Martin sat for an interview with Sean Hannity on Fox News, along with his lawyer Mark O'Mara.
In the interview, Hannity asked Zimmerman if there was anything that he would change about that fatal night when he killed Trayvon.
A man with logic and common sense might say, "I wish young Trayvon didn't have to lose his life." But not this bumbling, mush-brained doofus.
Instead, he told Hannity that he wouldn't change a thing because that would be questioning God, and he believes that everything that happened that night was "God's plan."
God's plan?
Did the good Lord come down from heaven and show him the Blueprint?
This moron probably runs around saying slavery was good for America because if it wasn't for that, then he never would've gotten to enjoy Michael Jackson's Thriller. You just have to see Zimmerman's interview to believe it.
Watch this video from CNN below:
So George Zimmerman would have us believe that God ordained the death of a 17-year-old boy? Sounds more like Satan at work.
Needless to say, Trayvon Martin's parents weren't at all impressed with Zimmerman's pathetic interview or his sadistic interpretation of the Almighty God.
Speaking with CBS News, Trayvon's father, Tracy Martin, punched holes in Zimmerman's twisted form of worship:
"I simply really don't know what God George Zimmerman is worshipping because there's no way that the God that I serve had in his plans for George Zimmerman to murder my son," said Tracy Martin.
And the church said, "AMEN! Brother Martin!"
You have to wonder what the hell Zimmerman's legal team is up to with this press campaign.
Are they trying to provoke a mistrial? Or just taint the jury pool?
Oh. No, that's right. This whole press tour is about rehabilitating George Zimmerman's public image.
You see, he and his wife lost cool points with the public — yes, even the Tea Party crowd — when they were busted for lying about the big ol' bucket of PayPal cash they were sitting on when he went to jail in April.
His bond was set at $150,000 then, but earlier this month, the judge revoked that bail and smacked Zimmerman with a $1 million bail.
Paying the bond for that bail has put a hurtin' on the Zimmermans' bank account, so now George is trying to do damage control and solicit some more funds. He posted this pathetic plea for coins on YouTube and his official site, therealgeorgezimmerman.com.
Uh, did George Zimmerman ever stop to think that maybe it was in God's plan for him to be broke? He should stop fighting the will of the Lord and get right with Jesus.
Speaking of spiritual retribution, Zimmerman's sad little begging hour with Hannity has failed to unleash the cash he so badly needs. The Orlando Sentinel reports that Zimmerman only pulled in $1,500 after the Hannity interview.
God is good, y'all.
Be the first to receive breaking news alerts and more stories like this by subscribing to our mailing list.