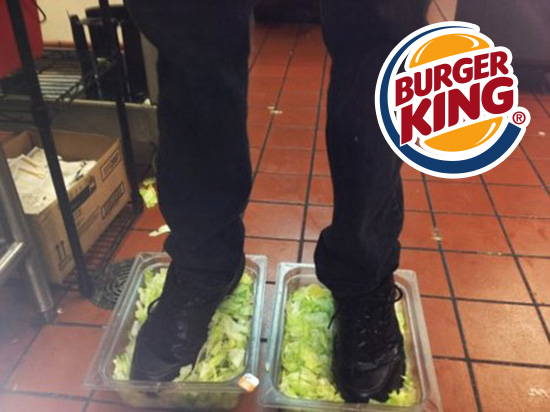 Add this to the million and one reasons why you should proceed with EXTREME caution when eating at your favorite fast food restaurants.
Three Burger King employees from Ohio were fired this week after a picture of a worker standing on top of opened bins of lettuce went viral on the Internet.
The photo — which you can see above — initially showed up on the website 4Chan, along with the following caption:
"This is the lettuce you eat at Burger King."
But just a few moments after the photo was posted, some 4Chan users were able to identify the exact Burger King location where the picture was taken (because the person who posted the picture apparently forgot to delete the geo-location tags — doh!).
With that information, the 4Chan users called up the Burger King in question — located in Mayfield Heights, OH — and also forwarded the disturbing picture to local news outlets, including Cleveland.com.
A writer for MSNBC said that when she called that particular Burger King location, she overheard someone screaming, "What are you doing on the phone? Don't answer the phone!"
Burger King has confirmed that photo was taken at one of their many restaurants, though they clarified that the location in question was "independently owned and operated by a franchisee."
The entire statement from the fast food company read:
"Burger King Corp. has recently been made aware of a photo that shows a Burger King restaurant employee violating the company's stringent food handling procedures.

"Food safety is a top priority at all Burger King restaurants and the company maintains a zero-tolerance policy against any violations such as the one in question.

"The franchisee has taken swift action to investigate this matter and terminated the three employees involved in the incident."
Among those fired were the employee who stood in the lettuce, a second employee who took the picture and the manager who was on duty, and basically allowed this to happen.
Be the first to receive breaking news alerts and more stories like this by subscribing to our mailing list.