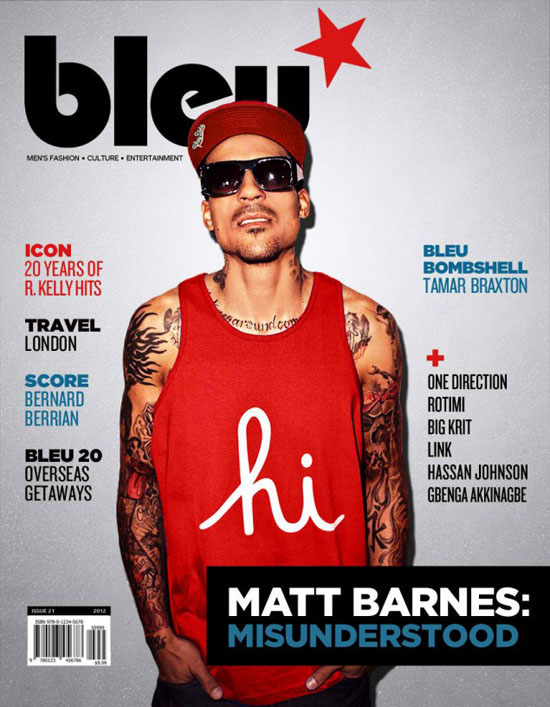 Matt Barnes says "hi" in a red tanktop on the cover of the latest issue of Bleu Magazine, where the heavily tattooed NBA star talks extensively about his relationship with his off-again, on-again fiancee Gloria Govan.
Peep the excerpts below:
On his relationship with Gloria Govan and ignoring the groupies:
"In the league, women come a dime a dozen. Not to sound stuck-up or anything, but that's just how it is. At some point you have to wake up and realize what your priorities are. Some guys wake up sooner than others. I woke up and I realized what was important to me.

"You like to go into a situation saying yes we are always going to be together forever and what's mine is yours, what's yours is mine, but sometimes it doesn't work out like that. Even when Gloria and I were dating other people, when people would say things about her, it bothered me. Even though we weren't together it was something that made me mad you know? It's different when they are talking about the mother of your children."

On how they get freaky with each other:
"Sometimes that means middle of the day sex. Sometimes that means after lunch you go and have sex in the bathroom. We do things outside the norm. I think we were in London last year in a really fancy nice restaurant and….the bathroom."

[Bossip]
Be the first to receive breaking news alerts and more stories like this by subscribing to our mailing list.