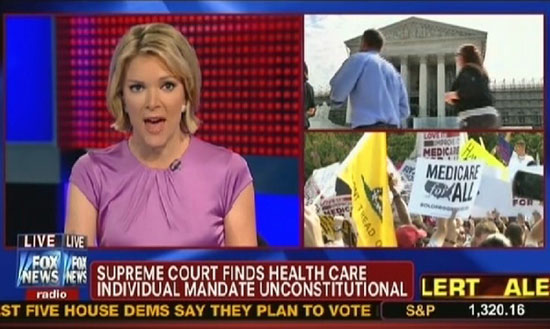 Doh! (Homer Simpson voice)

CNN and Fox News lost major credibility points Thursday (Jun 28) when they wrongly reported on the Supreme Court's ruling of Obamacare — President Barack Obama's healthcare reform plan.
The race to be the first to report on the news caused both networks to trip up, and falsely report that "The Affordable Care Act," informally referred to as Obamacare, had been struck down.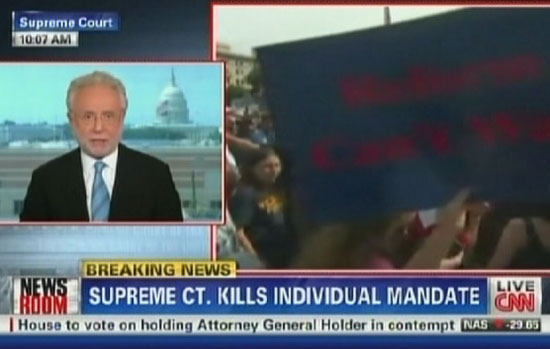 CNN said on all of its platforms — including their TV network, website and all of their social media profiles — that the law was "unconstitutional," as did Fox News.
"Supreme Ct. Kills Individual Mandate," was flashed across the screen on CNN. "Mandate struck down," CNN.com erroneously reported.
The headline on Fox News read, "Supreme Court Finds Health Care Individual Mandate Unconstitutional."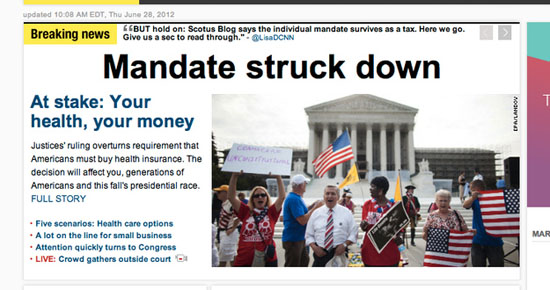 The networks even had President Obama thinking that the Supreme Court had overturned his signature health care law.
Like many Americans, the president was watching CNN and FOX News when they incorrectly reported that his health care law was found unconstitutional … and it wasn't until White House counsel Kathy Ruemmler gave him a double-thumbs-up that he realized that two of the biggest cable news channels in the country had got it wrong.
Politico.com reported:
Obama was confused by the cognitive dissonance of what he was hearing from Ruemmler and what he was seeing on TV. For a few seconds, he gazed at the monitors quizzically, and eventually decided to trust his staff over CNN, according to a senior administration official. When the reality hit, he padded into the Oval Office, where he embraced Ruemmler and, eventually hugged his laconic chief of staff, Jack Lew.

Several wire services correctly reported that the mandate had been upheld even before CNN and Fox News incorrectly reported that it had been struck down. Bloomberg prided itself on being the very first news source to break the news, bragging that they broke the story 12 seconds before Reuters, and 26 seconds before The Associated Press.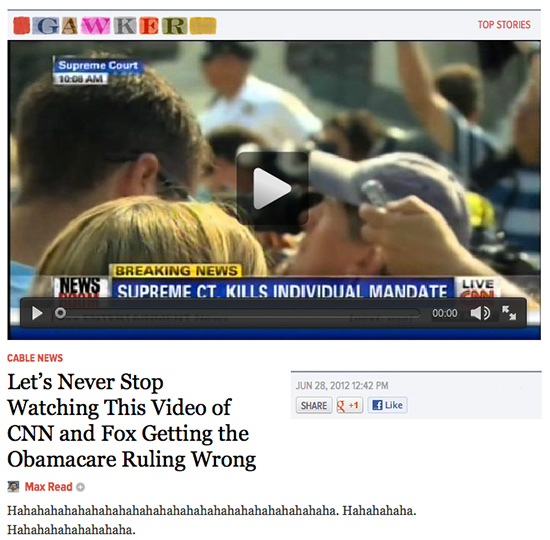 A headline on Gawker read: "Let's Never Stop Watching This Video of CNN and Fox Getting the Obamacare Ruling Wrong." Max Read, the author of the post, simply wrote: "Hahahahahahahahahahahahahahahahahahahahahahahaha. Hahahahaha. Hahahahahahahahaha," and even followed up with his own comment: "Ahahahahahahahahahahahahaha hahahahaha hahahahaha."
CNN and Fox News quickly tried to correct their error, but the damage had already been done. Blogs and social networks lit up with posts and comments, mocking the news networks for their foolish mistake.
CNN tried their best to explain what went wrong with the following statement:
"In his opinion, Chief Justice Roberts initially said that the individual mandate was not a valid exercise of Congressional power under the Commerce Clause. CNN reported that fact, but then wrongly reported that therefore the court struck down the mandate as unconstitutional.

"However, that was not the whole of the Court's ruling. CNN regrets that it didn't wait to report out the full and complete opinion regarding the mandate. We made a correction within a few minutes and apologize for the error."
Fox News, as expected, did not issue an apology. The only thing the network had to offer as an explanation for their flub was the following long winded statement from their executive vice president Michael Clemente:
"We gave our viewers the news as it happened. When Justice Roberts said, and we read, that the mandate was not valid under the Commerce clause, we reported it. Bill Hemmer even added, 'be patient as we work through this.' Then when we heard and read, that the mandate could be upheld under the government's power to tax, we reported that as well-all within two minutes.

"By contrast, one other cable network was unable to get their Supreme Court reporter to the camera, and said as much. Another said it was a big setback for the President. Fox reported the facts, as they came in."
An anonymous network veteran over at CNN reportedly told BuzzFeed.com that the incident was "f**king humiliating … We had a chance to cover it right. And some people in here don't get what a big deal getting it wrong is," he said. "Morons."
Just so you know … the complex Supreme Court decision found that ObamaCare, which requires Americans to buy health insurance or pay a penalty, was unconstitutional under the Commerce Clause … but Chief Justice John Roberts preserved the mandate, by finding that the penalty is valid as a tax.
In other words, ObamaCare was justified as a tax, which means that Americans will be required to purchase health insurance, similar to how you are required to purchase car insurance (if you own a car) and homeowner's insurance (if you own/rent a home).
Of course, since this is the land of the free and the home of the brave, you are free to not purchase health insurance … but prepare to be taxed $695 (or 2.5% of your taxable income — whichever is greater) as a penalty.
Your thoughts?
Be the first to receive breaking news alerts and more stories like this by subscribing to our mailing list.