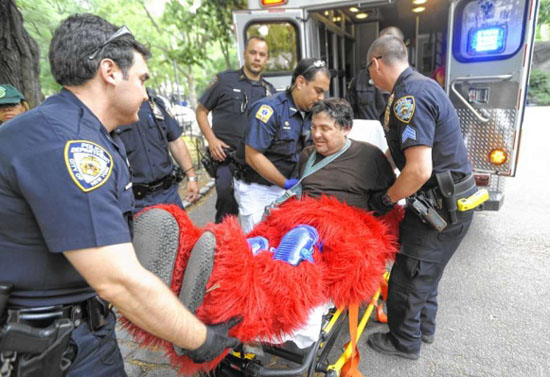 An emotionally disturbed man dressed up as the popular Sesame Street character Elmo was arrested and hauled away in an ambulance from New York City's Central Park Sunday (Jun 24) after he launched into an profanity-laced anti-semitic rant.
Central Park was Amazing! Went for a Carriage ride, went to the zoo, saw a man in an Elmo Suit get arrested… #NewYork

— Claire Duffin (@ClaireDuffin) June 24, 2012
Authorities say the Elmo impersonator was kicked out of the Zoo first for upsetting tourists and spewing obscenities. But when he continued to do so in the park, that's when the costumed, middle-aged man — after having his Elmo head removed, of course — was handcuffed, placed into an ambulance, and then immediately taken to the hospital for a mental evaluation.
That particular Elmo, who police say was not officially arrested and charged with anything, had been harassing tourists and passersby for the past few months, and there are even random videos of him doing his shtick on YouTube … with one video dating back to April, one from May and the other from just last week.
"If you start your own business in this city, Jews will harass you," he says in one of his anti-Semitic rants. "Get a real job, you're irritating kids!" one concerned parent is seen saying to the costumed man, who responded, "I'm not making money because the Jewish cops have got to keep harassing me!"
In addition to shouting obscenities and racist comments about Jews, the anti-semitic Elmo impostor was also known to target the other costumed characters and shout "crazy stuff" about them, said Luis, a 25-year-old Peruvian immigrant who makes a living off of taking pictures with kids dressed up as Elmo.
"He would stop and say that we were all illegal immigrants and that people shouldn't have their photos taken with us," said Luis, who would not give his last name. Luis said whenever he saw the shouting Elmo coming in his direction, he would move to another part of Times Square.
It is actually illegal and considered copyright infringement for anyone to dress up as Sesame Street characters for personal profit, or any other publicly recognizable characters from kid shows for that matter, without permission from the copyright holders.
However, people rarely face legal action from producers because there are far too many impostors for companies to do anything about. Other characters New Yorkers dress up as to take pictures for money, in addition to Elmo, include Spongebob Squarepants and Dora the Explorer.
Reps for Sesame Street refused to comment on Evil Elmo's arrest, but they did tell the New York Times in a statement, "The 'Sesame Street' Muppets are known the world over, and we do not condone unauthorized representations of our characters."
Watch the video footage of Elmo getting arrested below:
Be the first to receive breaking news alerts and more stories like this by subscribing to our mailing list.