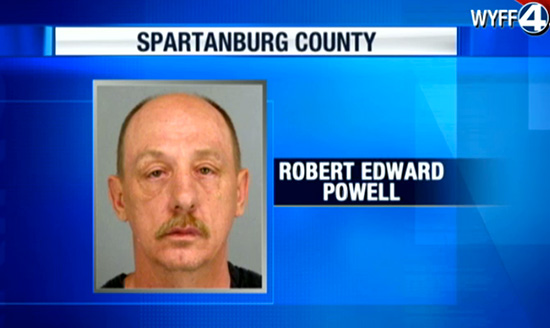 Now this is something you don't hear every day — A burglar was killed after he fell down a flight of stairs in the home he had broken into.
According to police in Spartanburg, South Carolina, a 52-year-old man they identified as Robert Edward Powell had broken into a vacant home last Wednesday evening (Jun 6), after 5:30 pm, which was the last time the homeowner was in the house.
Police say the home was empty because it is undergoing extensive renovations … and when a painter arrived at the house at around 8:30 am Thursday morning, the worker found broken glass inside the home and other signs of a break-in, so he left and called the homeowner, who immediately called 911.
Deputies arrived about 15 minutes later, and found Powell's lifeless body lying at the foot of the stairs in the basement.
Lieutenant Tony Ivey said that there were no signs of anyone other than Powell having been in the house, which he says was frequently targeted by burglars looking to steal fixtures, appliances or copper wire.
He added that because of the remodeling, the house was virtually empty, and there were no appliances or fixtures to take. (Though investigators did find copper wire in Powell's back pocket.)
An autopsy will be performed to determine Powell's specific cause of death, but Lt. Ivey says he believes the man was killed after he fell down the stairs. "It's an unfortunate accident that happened during the commission of a crime," he told local news station WYFF 4.
In other words … karma is a mean bitch, and it's "unfortunate" that Mr. Powell had to learn that the hard way.
Watch the video report below:
Be the first to receive breaking news alerts and more stories like this by subscribing to our mailing list.