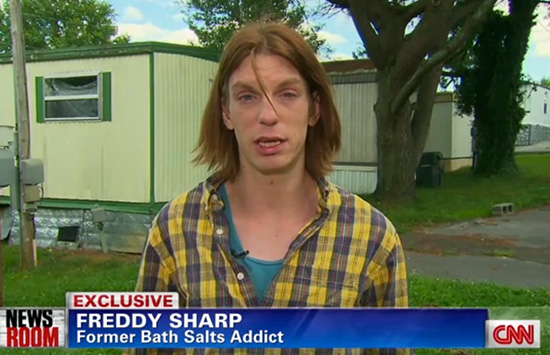 Freddy Sharp knows exactly what it feels like to be high on "bath salts" … and he says it's not a good feeling.
"Balth Salts" — not to be confused with the scented bath salts you would buy at Victoria's Secret or Bath & Bodyworks and put into your bathtub — is the synthetic drug that the "Miami Cannibal" Rudy Eugene is believed to have been on when he chewed off a homeless man's face off last month.

READ: Bath Salts May Have Caused Miami Man to Strip Naked and Eat Another Man's Face Off
The horrific 18-minute attack, captured on video surveillance cameras nearby, only ended after Eugene was shot dead by police. The victim remains in critical condition at a Miami hospital with close to 80% of his face missing.
"The guy just kept eating the other guy, like ripping his skin," witness Larry Vega told reporters, adding that when Eugene was told to stop, he growled like an animal with flesh hanging from his teeth, and continued to eat the victim's face.
According to officials, the synthetic drug known as "bath salts" are marketed under that name because they are usually sold in smoking paraphernalia stores disguised as a common household product, with a label that reads "not for human consumption."
They contain amphetamine-like chemicals such as methylenedioxypyrovalerone (MDPV) and are sold as "cocaine substitutes" or "synthetic LSD." Its effects include paranoia, hallucinations, convulsions and psychotic episodes.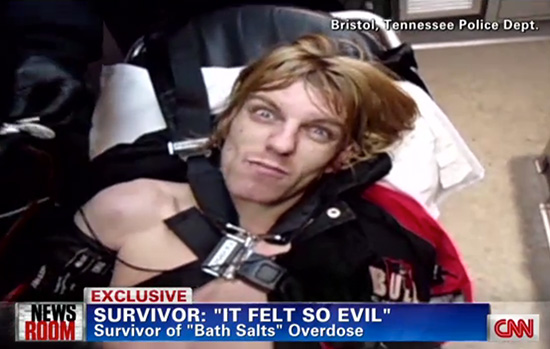 27-year-old Freddy Sharp, a self-proclaimed drug addict since the age of 13, describes his overdose on bath salts as the "darkest, evilest thing imaginable."
Shocking video footage of Sharp shortly after taking the highly potent drug — commonly called the "new LSD" shows the Tennessee native squirming around, and then making faces and singing to himself while he is strapped down by paramedics.
Sharp told CNN that he was hallucinating about being in an insane asylum and being possessed by Jason Voorhees from the "Friday the 13th" movies.
"I just felt all kinds of crazy," said Sharp, who says he hasn't used bath salts in months, ever since the overdose convinced him it was time to quit. "It felt like impending doom was coming down on me," he recalled. "I felt like I was about to bust loose and actually hurt somebody."
Though Sharp says he never felt the urge to "eat anybody's flesh," he admits the drug did make him feel invincible.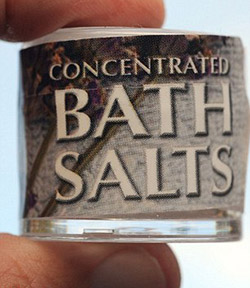 "You feel like you're 10 feet tall and bulletproof, and you actually do not feel any pain," he said … which explains why it took police officers over half a dozen shots to kill Rudy Eugene — who was apparently strong enough to actually hold someone down, and use his bare teeth to rip almost 80% of their face from their head.
Freddy Sharp gave a warning to other users of bath salts:
"The only thing I can say to them is that if you value your life, you'll stop it and you won't do it anymore, because it will destroy your life. It will destroy your family. It will destroy everything."
The involvement of "bath salts" in the horrific attack on Ronald Poppo remains unverified, as police weren't able to recover anything from the crime scene, and Rudy Eugene's autopsy didn't reveal too much either; though a toxicology report is expected to be released in the next couple of weeks.
Be the first to receive breaking news alerts and more stories like this by subscribing to our mailing list.