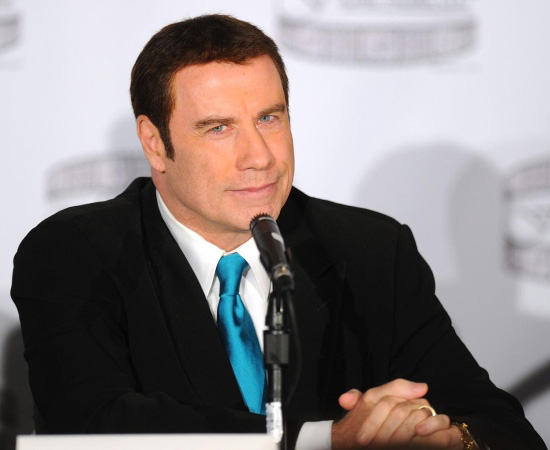 John Travolta is facing a federal lawsuit from now just one … but TWO different masseurs (male massage therapists), who both claim the 58-year-old actor sexually assaulted them during what were supposed to be routine massage sessions.
In the first incident, described in court documents obtained by TMZ, the first masseur says at the beginning of the 2-hour session Travola stripped completely naked and appeared to be "semi-erect."
The first hour of the $200/hr massage went without incident, but by the second hour, the masseur claims Travolta started rubbing on his leg, then touched his scrotum and the shaft of his penis.
The masseur reportedly told Travolta that he didn't have sex with his clients, but Travolta was persistent, offering to do what he called a "reverse massage." He also says Travolta begged him to let him jerk him off.
"Come on dude, I'll jerk you off!!!" Travolta allegedly told the masseur.
According to TMZ:
The suit goes on to allege Travolta then masturbated and told the masseur he got to where he was "due to sexual favors he had performed when he was in his 'Welcome Back Kotter' days," adding "Hollywood is controlled by homosexual Jewish men who expect favors in return for sexual activity."
As a result of the alleged sexual assault, the masseur — a Texas native who is unidentified in the court documents — claims to have suffered severe emotional distress, and he's asking for $2 million in damages.
Travolta obviously denies the accusations, and has his people release the following statement:
"This lawsuit is a complete fiction and fabrication. None of the events claimed in the suit ever occurred.

"The plaintiff, who refuses to give their name, knows that the suit is a baseless lie. It is for that reason that the plaintiff hasn't been identified with a name, even though it is required to do so.

"On the date when plaintiff claims John met him, John was not in California, and it can be proved that he was on the East Coast.

"Plaintiff's attorney has filed this suit to try and get his 15 minutes of fame. John intends to get this case thrown out, and then he will sue the attorney and Plaintiff for malicious prosecution."
Just one day after the lawsuit was filed, a second accuser — another male massage therapist — was added to the suit, who claims to have "substantial documentation and numerous witnesses regarding the substance of Travolta's actions," according to court documents obtained by Radar Online.
Both alleged victims are being represented by the same lawyer, and both of them are suing Travolta for sexual assault.
The second masseur alleges that while he was working at an unspecified hotel resort in Atlanta, GA in January of 2012, he did an in-room massage on Travolta, who was staying on the 15th floor of the upscale resort, and was referred to as "Mr. White."
The plaintiff says he normally doesn't do in-room massages, so he asked a co-worker to take the assignment, but the co-worker declined after he found out "Mr. White" was actually John Travolta, who he said had been banned from the L.A. spa he used to work at.
On the morning of the massage Travolta had "a strange demeanor, bloodshot eyes and climbed onto the already setup massage table…Travolta removed the entire sheet from his body, and he claimed the sheets were sticky and could not tolerate the heat.

Travolta further indicated that he likes a lot of "Glutes" work meaning a massage on his buttocks…While he was massaging near Travolta's buttocks area, Travolta would open his legs and spread his butt cheeks open and had a full erection and would maneuver in a way to try to force Doe Plaintiff No. 2 to touch his anus and around his anus."
But it didn't stop there…
As the massage came to an end "Travolta suddenly turned on his stomach with his legs wide open with a full erection. He then tried to force Doe Plaintiff No. 2's hand on Travolta's scrotum. Then, Travolta started to grab, rub and caress Doe Plaintiff no. 2's upper thighs and buttocks.

Travolta still had an erection and wanted his abdominals done, but Travolta's erection was in the way and he refused to have his penis covered by a sheet of a pillow case cover…Travolta started masturbating about 15 minutes left in the session, and Doe Plaintiff No.2, said he had to go," the docs state.

The masseur "complained to all of his supervisors and many coworkers to no avail." Travolta allegedly went down "to the spa that Plaintiff No. 2 worked at, which is part of the resort Travolta was staying at, as opposed to having Doe Plaintiff No. 2 go to his room. Travolta DEMANDED that Doe Plaintiff No. 2 come back and do it again, and he refused," the lawsuit asserts.
It comes as no surprise that John Travolta claims that the 2nd masseur is also lying, and his lawyers say the second allegation is "just as absurd and ridiculous as the first one."
Travolta's powerhouse attorney Marty Singer released the following statement on Tuesday (May 8):
"This second 'anonymous' claim is just as absurd and ridiculous as the first one.

"The attorney who filed the lawsuit on behalf of his second anonymous client, who does not want to disclose his name although he is required to do so, was notified that his first client's claims were totally false and fabricated, since our client was not in LA when anonymous "Doe #1" claims he interacted with John Travolta.

"That fact is easily provable since John Travolta was on the east coast working on a movie on the date that anonymous 'Doe #1' claims he interacted with our client.

"After we were able to establish that anonymous 'Doe #1's' claims were totally absurd, the same attorney has now filed a claim on behalf of another plaintiff, whom he identified as 'Doe #2.' Significantly, although the same attorney made the fabricated claim for Doe #1, there was never any claim made by anonymous Doe #2 before he filed his specious lawsuit.

"Before the attorney for the two anonymous plaintiffs filed the claim on behalf of the second person who refuses to disclose his identity although required to do so, it is obvious that he checked media reports that my client was in Atlanta working on a movie.

"However, the claim by Doe #2 is just as fabricated as the claim by Doe #1. Our client will be fully vindicated in court on both of these absurd and fictional claims."
John Travolta has faced rumors regarding his sexuality for decades.
In 1983, he told Rolling Stone Magazine, "They say that about everybody. That's a notorious rumor. They say that about me, Marlon Brando, every male, epecially the first year that you become a star."
He was also unceremoniously dragged out of the closet by his "friend" Carrie Fisher in 2009 when she wrote in a column for Out Magazine, "We don't really care that John Travolta is gay."
A year later, in an interview with The Advocate, the actress was asked about Travolta's sexuality once again.
Her response?
"I mean, my feeling about John has always been that we know and we don't care … Look, I'm sorry that he's uncomfortable with it, and that's all I can say. It only draws more attention to it when you make that kind of legal fuss."
So who knows? Maybe John Travolta is gay, maybe he isn't. (But he probably he is.)
One thing we do know for sure, is that those rumors aren't going anywhere anytime soon … especially since two guys claim he sexually assaulted them, whether they're lying or telling the truth.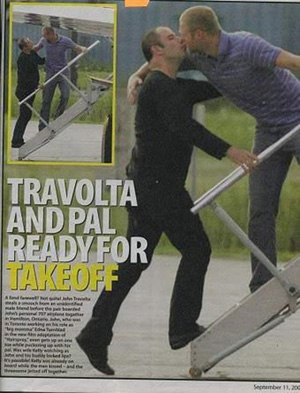 Though Travolta's reps have called the lawsuit filed this week "complete fiction and fabrication," the plaintiff's attorney, who is based out of Pasadena, California, says that since the initial complaint was filed, he has had several more potential victims come forward with similar accusations.
"There's a bunch of accusers against Travolta who have similar accusations," plaintiff lawyer Okorie Okorocha told People Magazine. "Many have contacted me, and I'm still vetting their stories. More defendants might come forward soon."
Okorocha said that the men "never wanted this attention" and "wanted to keep this discreet," but they weren't able to settle the matter privately due to a lack of cooperation on Travolta's part. "They left us with no other option but to file the lawsuit," he said.
"I will file for every single victim. Mr. Travolta has been able to evade justice, and he's going to challenge it with me. but I'm not afraid … I'll stand up to him," Okorocha told Reuters, explaining that the men didn't go to the police because they didn't think the police would believe them.
Do you believe the sexual assault allegations?

Be the first to receive breaking news alerts and more stories like this by subscribing to our mailing list.