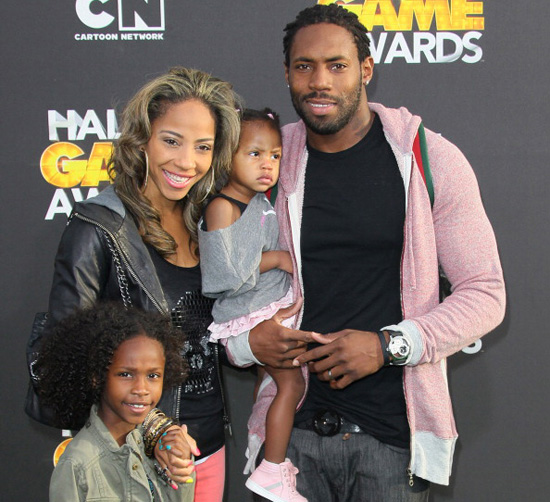 NFL player Antonio Cromartie has 10 children with eight different women in six different states … and according to various reports, a TV production company wants to create a reality show about the New York Jets cornerback and his ever growing family.
The show would basically follow Cromartie and his brood, and will attempt to show the clan as they try to "co-exist as a modern family," a source revealed to the New York Post.
Most of the baby mamas are on board to do the show so that their kids can bond with each other as brothers and sisters. But Antonio won't sign off on it, for obvious reasons, and has blocked any filming of his many children.
Despite the fact that Antonio has so many children in so many different states (California, Texas, Florida, Georgia, North Carolina and New Jersey), somehow some of his baby mamas actually know each other and are good friends.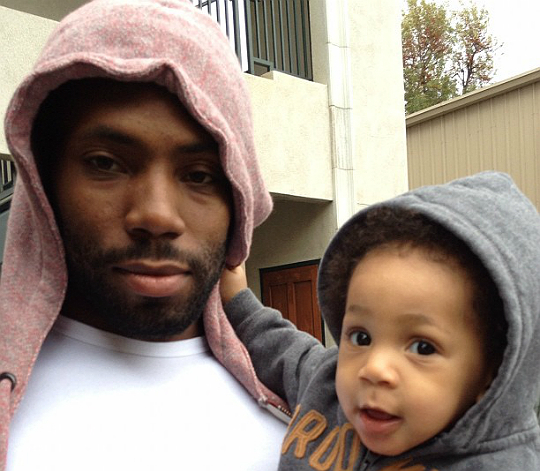 A woman named Ryan Ross, a hotel employee from Los Anglees who met Cromartie at a San Diego nightclub and dated him for six months, says she ran into another one of Cromartie's baby mamas — Latoya Burley from Houston, Texas — four years ago when she brought her then-newborn son Tyler to visit the former San Diego Chargers player at his apartment.
Latoya was there visiting with her daughter Deyjah, and she and Ryan hit off. Now the two of them stay in touch with each other, and several of Cro's other baby mamas. (Sidenote: Latoya also has another daughter with Cro named Leilani.)
"We're not catty women. We have a close, tight-knit friendship and understand what each other's going through. We reach out to share news about the kids, to talk, to vent," Ross said.
As far as Cromartie is concerned, Ross says that they only "co-exist" for the sake of their son, and Cromartie visits L.A. several times a year and spends time with their son T.J.
Cromartie — who signed a 4-year $32 million contract last fall — reportedly pays over $3,500 per month to all but two of his baby mamas.
One of the women not receiving monthly checks is his wife Terricka (so of course he doesn't pay child support to her), and the other — a woman from Florida named Rosemita Pierre — is the mother of his oldest child.
The latter doesn't receive any support because Cromartie got a judge to grant him full costody of their 7-year-old son Alonzo. And a court order states that Pierre is allowed to speak with her son at least three times a week, but she says Antonio sometimes doesn't answer the phone when she calls.
"They don't answer the phone," said Pierre, who has in the past called the cops in Randolph, New Jersey to knock on Cromartie's door. "It's a hurtful situation — like he's trying to erase me."
Pierre says she favors the show because she wants her son to know all of his brothers and sisters. Ryan Ross feels the same way.
"I love it," Ross said of the proposed TV show. "Our kids need to know who their siblings are. It's bigger than our past with Antonio. It's about our children."
To make matters for Antoni worse, one of his baby mamas — Rhondea Patterson from North Carolina — is a corporate lawyer, and she wrote a memoir called "Love, Intercepted" that details how Cromartie wooed her, then proposed to her only to cancel their wedding before the ceremony.
At the time, she was six months pregnant, but that didn't stop him from dumping her for another woman named Terricka who would later become his wife and the mother of two more of his children. Their most recent child together — a baby boy named Jagger — is less than a year old and now she's pregnant with twins.
Below is an infographic made by the NY Post descrbing Cromartie's 10 children and their mothers:
According to Terricka Cromartie, Antonio's wife of the past four years, some of the ages on the NY Post infographic are incorrect, and we certainly hope so, because there are several children listed who are the same age, which suggests that for a period of time, Cromartie was VERY fertile and wasn't spending money on ANY condoms.
After The Post's story about her husband's large group of baby mamas uniting together to make a reality show started to spread, Terricka shared the following via Twitter:
We had no $ i loved my husband and I married him for that sol4 purpose ny post really tried 2 make a graph & its still wrong

The gold diggers are the ladies seeking financial gain from a show based off there kids i would never want any part of that

our family is not ur ideal family but we make it work.. If these women would b more concern about there kids & not them self

Nonetheless when ur cleaning hotel rms a reality show would b ideal but i'll let them dream about it & watch me live it

Without the lies I'll tell u anything u want to kno just ask me.. Ive always been an up front person.. Oh yea we are expecting twins in NOv
So come November … Antonio Cromartie's baby count will jump from 10 to 12! That's a lot of children to keep up with, especially for a 28-year-old.
Antonio became the laughing stock of the Internet a couple of years ago after a video showing him having trouble recalling all of his children's names and ages for an HBO show went viral. Peep the clip below:
At the time, Cromatio only had 8 kids, compared to the 10 he has now, and the 12 he will have when he and his wife's twins are born this November; and even with just 8, he shamefully struggled to accurately and precisely recall all of his offspring.
At the rate he's going now, Antonio Cromatio will have 20 or more children by the time he turns 35!
Someone should drop this guy the memo that condoms are a lot cheaper than babies.
[Sources: NY Post, Necole Bitchie]
Be the first to receive breaking news alerts and more stories like this by subscribing to our mailing list.