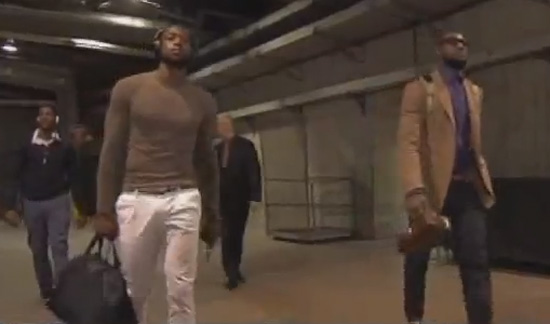 NBA superstar LeBron James made headlines this week after he was spotted carrying what appears to be a "man purse" to a recent basketball game.
During halftime of Sunday's Celtics/Knicks game, ABC replayed a shot of the Miami Heat player and his teammate Dwyane Wade as they entered the Staples Center just before their showdown with the Los Angeles Lakers.
Wade, dressed in a simple muscle shirt and cream colored pants, was carrying a large black leather duffle bag, while his teammate on the other hand, dressed up more fashionably in a brown blazer, purple button down shirt and tight-fitting jeans, chose to carry a teeny little man purse.
Watch the hilarious footage below:
Yahoo! Sports writer Kelly Dwyer had the following opinion about LeBron's man purse:
I don't care what you think, that thing is dope. I'd carry two, if I could pull it off. With the leather and the handle, it looks like it's going to be full of straight razors, scotch whisky and creamed spinach in anticipation for that night's massive slab of prime rib. If that's a man-purse, it's something that Errol Flynn would have boarded a swanky dirigible with.
What do you think about LeBron James and his man purse?
Be the first to receive breaking news alerts and more stories like this by subscribing to our mailing list.