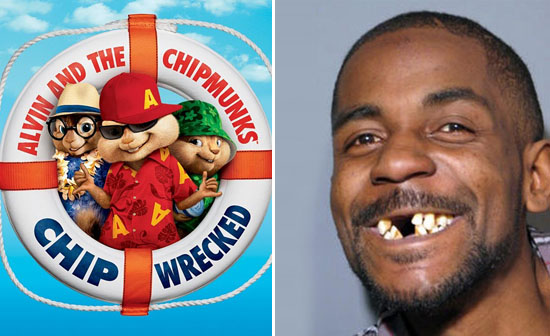 A tooth deficient pervert was arrested after Chicago police say he literally took his clothes off, and exposed himself to a theater full of children and their parents at a showing of the new movie "Alvin and the Chipmunks: Chipwrecked."
According to police, 34-year-old Edward Brown took his clothes off and paraded around in his birthday suit in front of at least 96 movie-goers, many of them children before he sat down in his seat, still fully nude.
Police told the Chicago Tribune that they were able to quickly evacuate the traumatized movie patrons from theater without any issues, and ordered Brown to put some clothes on, at which point they handcuffed him and threw him in the back of a squad car.
Brown was arrested on charges of sexual exploitation of a child and misdemeanor disorderly conduct, the Tribune reported.
When police asked Brown why he did what he did, he told them that a woman had promised him crack and sex if he went to the theater, took his clothes off and sat in the front row butt naked.
Police were unable to find the unidentified woman, nor were they able to find Brown's missing front teeth.
Be the first to receive breaking news alerts and more stories like this by subscribing to our mailing list.