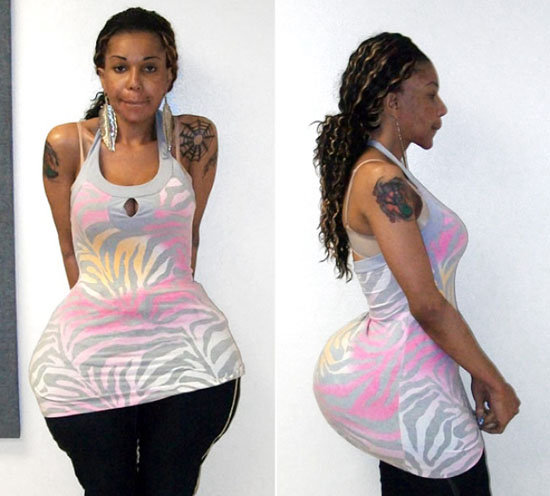 31-year-old Oneal Ron Morris, a transgendered woman known as "The Duchess," was arrested after police found out she was injecting other transgendered women with a dangerous mixture of cement, super glue, mineral oil and Fix-A-Flat tire mender in their butt in order to give them a more "womanly" appearance.
At the time, police only knew of a small group of people who underwent the controversial procedure……but now they're saying that the number of victims has risen to around 30 people!
That makes AT LEAST 30 people who laid themselves down on a table, and let an unlicensed person inject their body with dangerous chemicals … and not only that, but she also sealed the wounds off with Super Glue.
The New York Daily News reported:
Oneal Ron Morris, 31, who is transgendered and known as "The Duchess," preyed largely on other transgendered women who hoped to enhance their curves and gain more feminine features, authorities said.

But after Morris allegedly injected them with harmful chemicals, including Fix-a-Flat tire sealant, many ended up in the emergency room.

It was previously thought that Morris treated a handful of patients from south Florida, but as many as 30 people have now come forward from as far away as Indiana, the Florida Sun Sentinel reported.

The Duchess allegedly told her patients that she had performed hundreds of successful plastic surgeries using "medical silicone." Morris apparently had her own buttocks enhanced with injections.

Morris and an alleged accomplice, Corey Alexander Eubank, now face felony charges of practicing medicine without a license.

Both pleaded not guilty and were released after posting bond on Dec. 12, according to the Miami Herald.

Police suspect the duo may be part of a network of scam doctors who have been offering black market surgical enhancements at home "pumping parties" for years.

Rajee Narinesingh's face looks like this after she too underwent phony cosmetic surgery performed by "Dr." Oneal Ron Morris.

Morris' case first came to national attention when an unidentified patient was rushed to the hospital after a mixture of tire sealant, cement, glue and mineral oil was injected into her buttocks, authorities said.

Another Florida transgendered woman, Rajee Narinesingh, was traumatized after The Duchess's alleged injections to her face left her disfigured.

Nearly a year after receiving the shots, Narinesingh's face began to swell and develop large lumps that burst. A doctor had to fix the botched job by literally pulling cement out of her face, reports said.

"There was a sisterhood of trust. She was part of the transgender community herself," Narinesingh told the Sun Sentinel. "There was a feeling that she won't do anything bad, she knows what she is doing."
Guess that "feeling" was just the pain from the fix-a-flat, cement and super glue they let that crazy woman inject into their butt.
Obviously she DID NOT know what she was doing … SMH!
Be the first to receive breaking news alerts and more stories like this by subscribing to our mailing list.