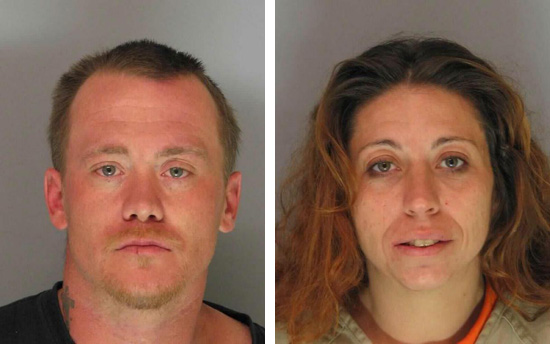 Police in Gainesville, GA say a man and a woman decided to take a nap after breaking into an elderly couple's vacant home last Wednesday morning (Dec 17).
The "professionally stupid" couple, as described by police, was found asleep on a bed in a back bedroom when deputies entered the house after responding to a call about a burglary in progress.
The homeowners' son had called police after he became suspicious when he noticed a strange vehicle parked in the driveway when he pulled up to check on the house.
"There's still furnishings and belongings in there that is family property, and he was just checking on it," Sgt. Stephen Wilbanks told the Hall County Sheriff's Office.
Evidently, the couple — 33-year-old Enneth Dwayne Lee and 38-year-old April Lynn Morris — had broken into the home, grabbed a few items from inside and took a nap
Cops say when they arrived, they saw that the couple had placed items from the home near the doorway, apparently planning to take the stuff with them after they finished their power nap … which unfortunately, was interrupted by the cops and their subsequent arrest.
"Items from the home had been staged near the doorway, apparently in preparation to be stolen as they exited," Sgt. Wilbanks said, adding that this is the first time he's ever heard of an incident in which the suspects were found sleeping during a burglary.
"I can't recall a case where our deputies actually found somebody asleep," he said. "We do occasionally have a case where … the owner will report they went through the refrigerator and ate some food or drank some drinks."
The man and woman were both charged with burglary and are currently being held in the Hall County jail without bond, where they can nap all day long if they want.
[Gainesville Times, Video via: Fox News]
Be the first to receive breaking news alerts and more stories like this by subscribing to our mailing list.