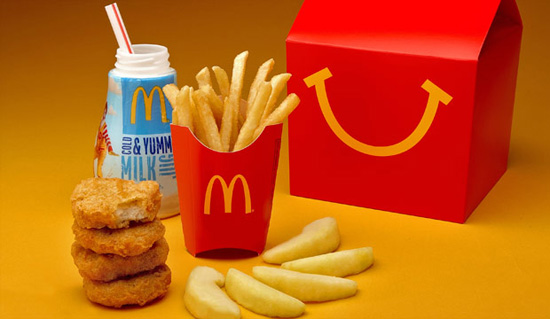 The famous McDonald's Happy Meal is getting a makeover!
In a desperate attempt to trim the fat and calories from their Happy Meals, McDonald's announced Tuesday that they will be introducing some changes, including apple slices, reduced portion of french fries and new beverage choices, like fat-free chocolate milk and 1% low-fat white milk.
The core of the Happy Meal, however, will remain the same. Kids will still be given fries (albeit a reduced portion) and a choice of either a hamburger, cheeseburger or 4 chicken nuggets. In addition, all usual beverages, including milk, water, soda and fruit juice, will continue to be options for the Happy Meal.
"By adding fruit in every Happy Meal, McDonald's hopes to address a challenge children face in meeting the recommended daily consumption of produce," according to the corporation's statement.
The changes are expected to begin in September, and the fast food giants hopes to revamp Happy Meals at all of their 14,000 restaurants by the beginning of next year.
"I see this as a positive development," Kelly Brownell, director of the Rudd Center for Food Policy & Obesity at Yale University, said. "The companies have recognized the pressures from the public, the community and parents to offer healthier choices for children. They've begun to respond. There have been criticisms of what they serve children for many years. In the past years, the pressure has intensified, the White House concern about childhood obesity is one source of that pressure."
[CNN]
Be the first to receive breaking news alerts and more stories like this by subscribing to our mailing list.