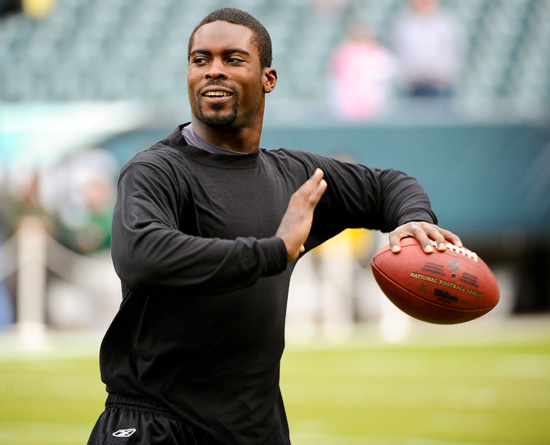 Even though the Philadelphia Eagles have said that they want their new star player Michael Vick to stick around for the next few years, the team says that an extension on the quarterback's contract has yet to be discussed. Full story is below!
According to the Philly Inquirer, the Eagles say that they plan to meet with Vick sometime within the next few weeks to discuss his future as a member of the team, since November is usually when the Eagles sign players eligible to become free agents during the offseason to sort of "lock them in" before other teams do. This year, however, things are a bit different due to labor talks being at a standstill and officials are uncertain about what a potential collective bargaining agreement could look like.
Vick's tainted image was repaired recently when he became one of the NFL's leading passers this season, and reports say that he could be become one of the most sought-after free agents in the off-season. But Vick says that he'll most likely sign with the team who took him in when no one else would.
"When nobody else wanted me, they did," he said. "I definitely have to take that into consideration when it's time to make a decision on something."
The Philadelphia Eagles signed Michael Vick in 2009, just a few months after he was released from federal prison on animal cruelty charges. He spent last season as a back-up for QB Donovan McNabb, and entered this season as Kevin Kolb's back-up Quarterback. But after Kolb was injured in the season opening, Vick took over as lead QB and the Eagles have been doing even better! They are 5-3 overall and are 3-0 in the games in which Vick has started and finished.
Michael Vick and the Philadelphia Eagles are due to take on the Washington Redskins this coming Sunday (Nov 15) at FedEx field in Maryland.
Do you think Michael Vick will be a Philadelphia Eagle for a few more years?
Be the first to receive breaking news alerts and more stories like this by subscribing to our mailing list.