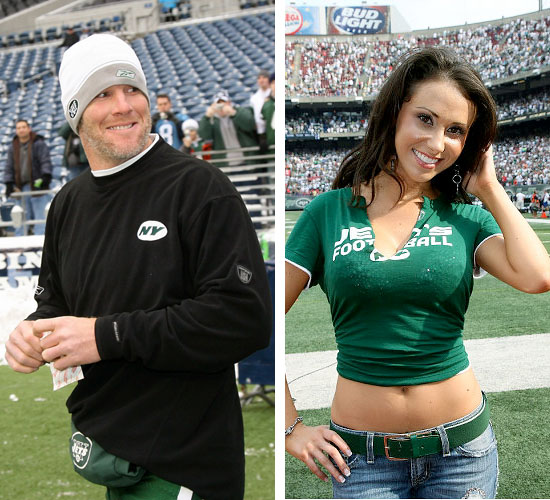 NFL player Brett Favre is in a world of trouble after Deadspin.com published an explicit video clip last week allegedly exposing the Minnesota Vikings Quarterback for having an illicit relationship with a New York Jets in-house sideline reporter.
Favre, who played for the Jets back in 2008, is currently being investigated by the NFL for allegedly sexting and leaving lewd voice messages for Jets "Gameday host" Jenn Sterger during the 2008 season.
Two months before Deadspin released the clip, they mentioned that Jenn Sterger told them that she received a ton of sexually explicit pictures from a few professional athletes, including Favre. She also said that Favre starting calling her early on in the 2008 season and left several strange (but friendly) voicemails before the messages started to get weirder and weirder. Then came the d*ck pics…
Sterger claimed she spurned Favre's advances because he was married, but also because she was working for the Jets at the time she didn't think it was the best idea to start a torrid affair with the team's highest profile player (the Jets have not responded to a question about any knowledge of the Favre/Sterger saga at this time). Plus, if she went forward with how aggressive he was and how skeeved out she was to some of her superiors, she suspected she might lose her job.

The interactions were flirty and strange but she didn't think there wasn't anything that made her too uncomfortable. But then, one night, Sterger received a picture on her phone which was so shocking that she just tossed it across the room. It was his d*ck. Brett Favre's d*ck. And it happened multiple times. In fact, Sterger claims that, in one of the photos Favre allegedly sent her, he's masturbating — while wearing a pair of Crocs. In another photo, Favre is holding his penis while wearing the wristwatch he wore during his first teary-eyed retirement press conference.

Source: Deadspin
Now that all of this has come out, Jenn is declining to speak on the record. And when asked about the situation, Brett told the New York Post:
"I'm not getting into that. I've got my hands full with the Jets."
Yeah, you've got your hands full alright! (LOL)
Peep the **NSFW** video footage by clicking the link below!! (WARNING: MUST BE AT LEAST 18 YEARS OLD TO VIEW)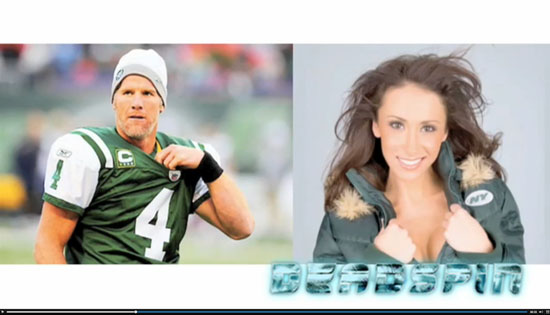 Be the first to receive breaking news alerts and more stories like this by subscribing to our mailing list.