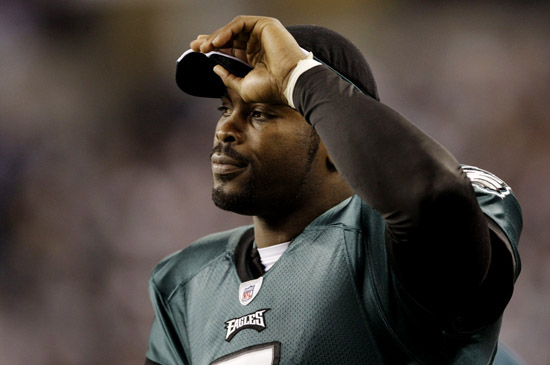 Philadelphia Eagles football player Michael Vick will not face any disciplinary action following him allegedly being involved in a shooting after his birthday party at a nightclub in Virginia Beach back in June, says the National Football League. NFL Commissioner Roger Goodell personally informed Vick of his decision yesterday (Tues. Aug 3) at the Eagles' training camp in Bethlehem, Pennsylvania.
"Commissioner Goodell informed Michael Vick there will be no disciplinary action as a result of the incident in Virginia, based on his current understanding of the facts. Commissioner Goodell spoke several weeks ago by phone with Michael, Tony Dungy, and Eagles coach Andy Reid. All were in agreement on the need for additional support measures to be added to Michael's plan to enhance his opportunity to succeed in life and football. These additional steps will remain confidential, but they will require Michael to meet even higher standards."
Police say Vick won't be charged due to a lack of cooperation by witnesses and the victim, Quanis Phillips, a co-defendant in Vick's federal dog fighting case. Mike and the NFL Commissioner spoke on the phone following the shooting incident, but yesterday was their first face-to-face meeting. Goodell said:
"He understands the responsibility he has and the position he's in, and he has to make good decisions," Goodell said. "I want him to understand that he's in a different position than others and because of that he has to protect himself differently, and he recognizes that, I think, and hopefully he's going to make good decisions moving forward.

"A large part of our message is going to be the additional support we want to provide, helping him make better decisions, including mentoring, guidance and support we think we can provide him both at the league level and at the club level

"I think he's made significant progress. I think he understands his responsibility, he's been focused on it, but as I've said to him a year ago, he can't afford lapses in judgment. He just can't afford that. He understands that position he's in, and he needs to make sure that he's held to that high standard."
Vick is scheduled to speak to reporters after practice today. But we're glad he got out of this one okay! He just needs to be a little bit more careful in the future…
Your thoughts?
Be the first to receive breaking news alerts and more stories like this by subscribing to our mailing list.