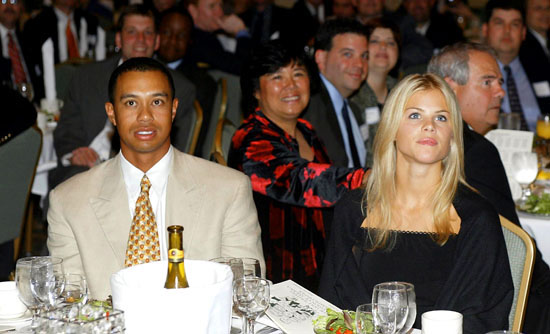 Word on the sidewalk is that the divorce between Tiger Woods and his wife Elin Nordegren is almost official. A source tells Radar Online that the paperwork is ready to be signed seal and delivered as both parties have "agreed on all the major points." The snitch even said that Elin is set to receive that $750 million we told you about around this time last month. The source said:
"They've agreed on all the major points. It's all been worked out privately.Both Tiger and Elin are very close to finishing the negotiations and filing and signing the paperwork. When they first started negotiating the divorce, it was very acrimonious. Elin had a lawyer in California who was very, very aggressive."
So Elin switched lawyers to calm the situation, and she now lives in a rented house in Orlando, about a mile away Tiger.
"Things are now very civil between Tiger and Elin – at least in terms of getting the divorce taken care of."
Elin was said to have tried to work things out with Tiger and even participated in his sex addiction rehab therapy, but when he started back golfing, she felt as though Tiger wasn't sincere about changing his life and she bounced. And now they don't even talk to each other.
"They don't interact much at all anyone. The nannies take the kids back and forth between their houses. There's virtually no conversation between Tiger and Elin but that's an improvement from when all the conversation was angry."
The source says Tiger and Elin's day in court is "almost here" and the terms of their divorce are being worked out privately. When everything is finished, it will be filed in court.
Grab your popcorn folks…
Be the first to receive breaking news alerts and more stories like this by subscribing to our mailing list.