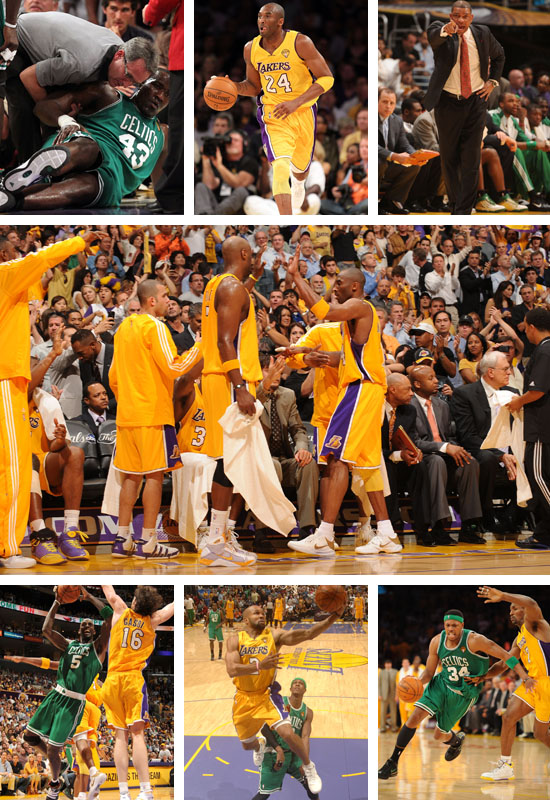 Despite the two games the Boston Celtics won in a row back at home, that didn't stop the Los Angeles Lakers from showing them whose house they were playing in Tuesday night (Jun 15) during Game 6 of the 2010 NBA Finals!
The Lakers tied the series last night (3-3) and blew the Celtics out by 22 points (89-67) in the Staples Center in Los Angeles. Kobe Bryant, who scored 26 points, 11 rebounds, and 3 assists, had a conscious team Tuesday night and didn't have to feel like he was competing alone. Bryant expressed his happiness in his teammates conscious change since Game 5:
"I was very happy," Bryant said, "We did a great job defensively. We kept them out of the middle, kept them out of the paint, did a good job on the boards. It was a solid effort by us." he continued "We're used to being in must-win situations, The way we look at it, [Game 7] is just a game we've got to win. … I don't mean to be a buzzkill. I know what's at stake, but I'm not tripping."
Pau Gasol scored 17 points, 13 rebounds, 9 assists. Gasol indeed "manned up" and understands what has to be done in order to win ring number two:
"We want to carry everything we did tonight to [Game 7], and then I think we'll be in a very good place to win," Gasol said. "When you bring the intensity we did tonight, good things are going to happen."
A whole new team showed up on the court in L.A. for both sides and it will cause some trouble for the Boston Celtics. Doc Rivers may have to re-assemble his starting line-up due to Kendrick Perkins injury in the first quarter Tuesday night and may not return Game 7 in L.A. Rajon Rondo achieved 10 points, 6 assists, 5 rebounds and says that he's over Game 6 and is looking forward to Game 7:
"To me, the game is over," Rondo said. "We have one game [left]. They have one game. All or nothing. [Game 6] is in the past."
Ray Allen scored a total of 19 points, 3 assists, and 2 rebounds. Paul Pierce put up 18 points and 3 assists. Tune to ABC at 9PM/ET Thursday night (June 17) witness Game 7. In the meantime watch the video recap to see what happened Game 6 below!
Be the first to receive breaking news alerts and more stories like this by subscribing to our mailing list.