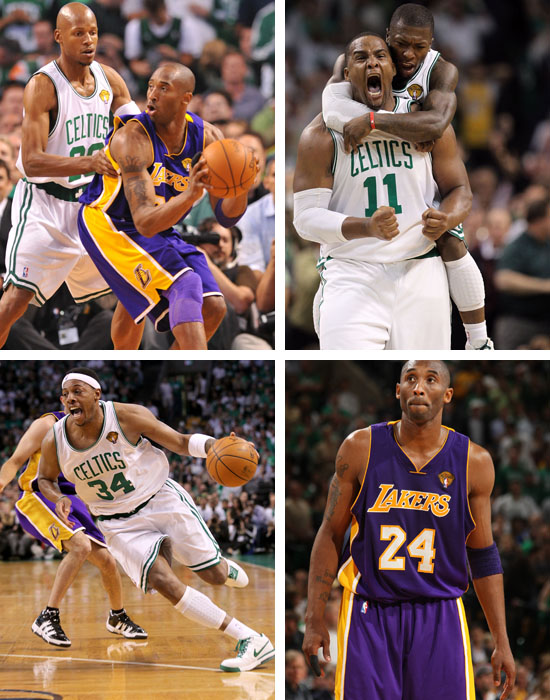 The Boston Celtics picked up a few four-leaf clovers from the TD Garden Thursday night (Jun 10) and luckily won Game 4 against the Los Angeles Lakers to tie the series (2-2). The Celtics' bench managed to help them win by 7 (89-96). Glen "Big Baby" Davis scored 18 points which significantly led the Celtics to a victory they needed to win. There was no plan to come out to prosper in this game Davis explained:
"Just will, that's all it is," Davis said. "This is what legends are made of, this is where you grasp the moment. … Just play in the moment."

"All I'm thinking about is, 'Let's win,'" Davis continued. "I'm not thinking about anything else. I'm not even thinking about Kobe making all these shots, worried about this or worried about that. I'm just worried about winning, whatever it takes to win, and just making sure that I give my teammates positive energy to finish out the game."
Boston Celtic Paul Pierce scored 19 points, 6 rebounds and 5 assists. Ray Allen managed to get 12 points in Game 4 slowly recovering from his missing streak in Game 3. Top performer of the game Kobe Bryant scored 33 points, 6 rebounds, and 2 assists. Bryant briefly talked about how the game turned from their favor to ending in a loss:
"They got all the energy points, the hustle points, second chance points, points in the paint, beat us to the loose balls," Bryant said. "I mean, that's how the game turned around."
An injured starting center, Andrew Bynum was also a factor in the Lakers loss in Game 4. Hopefully, the worst has come and left. The Lakers' vengeance is only fueling higher. Tune in to Game 5 Sunday night (Jun. 13) at 8PM/ET on ABC. Check out the slobbering "Big Baby" roar after scoring below
Be the first to receive breaking news alerts and more stories like this by subscribing to our mailing list.