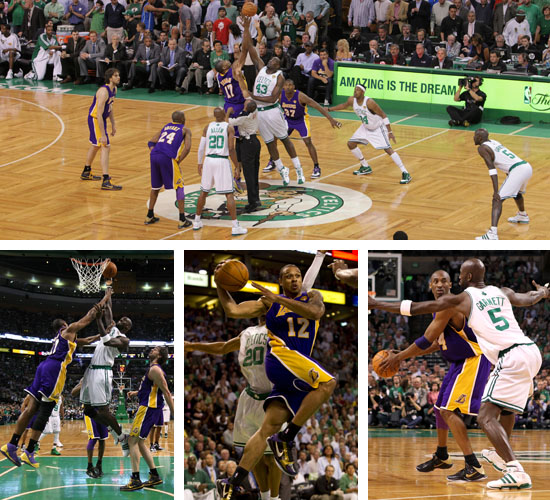 The Los Angeles Lakers redeemed themselves with a victory last night (Tues. Jun 8) at the TD Bank North Garden in Boston Game 3 and are now leading the series (2-1) against the Boston Celtics. The Lakers took Game 3 by 7 points, ending with 91-84. Derek Fisher was a key component to this win, knocking down difficult shots and making hard plays within the first ten minutes of the 4th quarter. Kobe Bryant, who scored a total of 29 points, 7 rebounds, 4 assists, and 3 blocks, acknowledged the effort his teammate Fisher put up after he wasn't attempting to score in the 4th quarter:
"Truthfully, he's done it over and over and over again," said Bryant, "So it's almost his responsibility to our team to do these things."
Fisher spoke to the media afterwards and explained what fueled his energy in Game 3 Tuesday night:
"Our thoughts are really just still on how disappointed we are, or were, losing that second game on our home court. I think that had more of our attention and focus than what happened in '08," Fisher said. "We didn't doubt our ability to win here. … We understand when you want to be the best, you have to win wherever, whenever."
The Celtics' Ray Allen almost broke another record in Game 3 after following his tremendous performance in Game 2, but this time not so great. Allen had a total of 2 points and missed all 13 field goal attempts he put up, excluding his free throws, one field goal attempt of the NBA finals futility record.  While Kevin Garnett improved from his Game 1 and Game 2 performances in Game 3 with 25 points, 6 rebounds, and 3 assists, he discussed his disappointment in the lack of offensive strategies that took place Tuesday night:
"It's very frustrating, very frustrating when you don't play well offensively," Garnett said. "But defensively, you know, you sort of buckle down and get the stops and things that you want and you get back into the game only to come up short. he continued "Yeah, that's real disappointing."
Both Andrew Bynum and Pau Gasol of the Lakers had a total of 10 rebounds helping the their team progress to victory in Game 3. Tune in to Game 4, Thursday night June 10th in Boston on ABC at 9:00PM/ET. Check out video footage of the recap courtesy of the NBA below!
Be the first to receive breaking news alerts and more stories like this by subscribing to our mailing list.