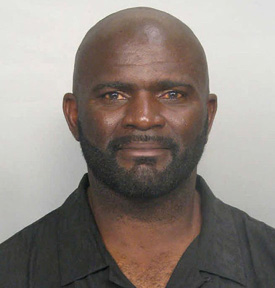 O-M-G. Here we go again. Another athlete is in trouble for some dumb sh*t!
Lawrence Taylor, a former linebacker for the New York Giants, was arrested this morning and will face a felony rape charge involving an attack on a 16-year-old girl at a hotel in Montebello, NY. Reports indicate that the victim was a runaway from the Bronx and was under the control of a pimp, who was arrested as well on charges of unlawful imprisonment, assault and endangering the welfare of a minor.
Law enforcement sources tell TMZ that the teen-aged girl told police that the former NFL player paid her $300 for sex. TMZ also spoke with Lawrence Taylor's layer, Kenneth Gribetz, who is adamant that his client is not guilty and is "extremely upset about the situation." Taylor's wife even has offered her two cents on the situation, adding that the entire thing was one big "setup."
TMZ just spoke with Lynette Taylor — LT's 3rd wife — who tells us the allegations are "all bullsh*t." As for why she suspects a setup, Lynette claims that the timing of the arrest is suspicious because it came just days after LT was featured on an A&E documentary called "Fame and Recovery" which she believes "made him out to be a monster." Lynette wouldn't expand on who she thought could be behind such a plot, but she was adamant that the timing of the show and the arrest were no coincidence.
But that's not all!
Shortly after LT was arrested, investigators found a condom and other physical evidence in the hotel room where they found him asleep before then took him into custody. Cops say there were no drugs or paraphernalia at the scene, but they did say that the accuser had a "nasty" black eye that appeared to be "fresh," though they're unsure of who actually hit her.
Tests will be done on the condom soon so we'll see if his wife's story holds true very soon…
Be the first to receive breaking news alerts and more stories like this by subscribing to our mailing list.