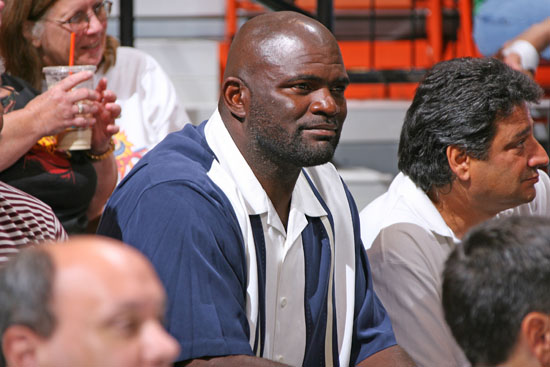 Former NFL player Lawrence Taylor was indicted Wednesday (Jun 23) by a grand jury in New York on charges of third degree rape and patronizing a prostitute. The pro football Hall of Famer was arrested last month at a Holiday Inn in Ramapo, New York where prosecutors say he paid a 16-year-old girl $300 to have sex with him.
Court documents state that the 51-year-old football legend's charges also included sexual abuse, endangering the welfare of a child and criminal sexual act in the third degree. He denies the charges and denies knowing the girl's age, but if convicted, Taylor faces up to 4 years behind bars.
Rockland County District Attorney Thomas Zugibe told the press that the teen-aged victim said that she was verbally threatened and physically assaulted by a pimp who took her 26 miles north of Manhattan to the hotel where Taylor was waiting.
"One of the most effective ways to target prostitution is to go after the johns," Zugibe said. "This indictment underscores our serious commitment to prosecuting those defendants who create a market for the region's growing sex trade."
LT's legal team, headed by attorney Mark Lepselter, decided to avoid presenting evidence in the case to the grand jury but are confident that they will succeed in proving Taylor's innocence.
Be the first to receive breaking news alerts and more stories like this by subscribing to our mailing list.