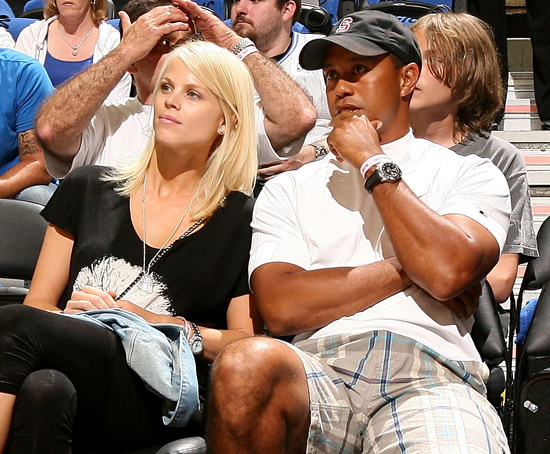 Billionaire pro golfer Tiger Woods' wife Elin Nordegren is reportedly filing for divorce after Woods was recently exposed as what they call a "serial cheater." The 29-year-old former super model is said to be fed up with all of the reports of the 14 women that have come forward saying that they have had sexual relationships with Tiger and wants out NOW! Not now, but RIGHT NOW. Word is she wants half of his $671 million fortune and complete custody of their two young children, Sam (2) and Charlie (10 months).
Too many women and too many lies have pushed her over the edge. The financial terms of the split are going to take a while to work out, but as of right now Elin has made up her mind that she can no longer be married to Tiger, a source familiar with the situation told RadarOnline.com. "She's not going to let Tiger talk his way out of this," the source said. "There's nothing he can say to erase years of betrayal."

At least 14 women have been sexually linked to Tiger since Rachel Uchitel was first revealed as Tiger's mistress for the past five months. When Tiger's affair with Uchitel became public it led to a bitter fight that ended with Tiger driving his car into a fire hydrant and tree. But things only got worse for the golfer as he was unmasked as a serial cheater in the aftermath of his bizarre crash. Elin has been spotted without her wedding ring in recent days and the source told RadarOnline.com that she considers the marriage over.

Several reports have said she will fly to Sweden for the holidays and while that has not yet been confirmed it is clear that divorce papers will be filed sooner rather than later.
Be the first to receive breaking news alerts and more stories like this by subscribing to our mailing list.