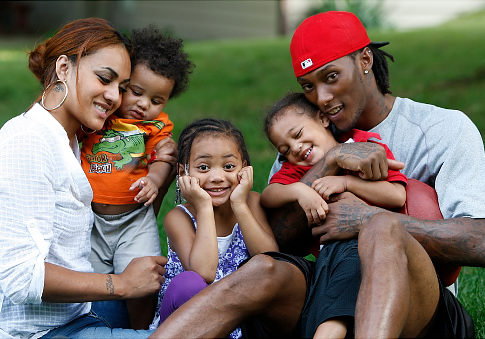 More details from NFL player Chris Henry's death has emerged and it sounds like dude tried (and succeeded) to commit suicide. Sad.
A neighbor of the Cincinnati Bengals football player's fiancee, Loleini Tonga, says that moments before his death, Chris begged Loleini to stop the truck so that they could talk or he would kill himself. Authorities close to the case say that a domestic violence dispute lead to Henry falling off the back of a moving pickup truck Tonga was driving Wednesday (Dec 16).
Chris and Loleini were getting prepared to get married in March. Loleini posted a message on her MySpace just the day before the incident announcing to her friends that she and Chris had put their deposit down for their wedding pictures and paid for their rings.
Tonga's neighbor, Lee Hardy, was perched on a 15-foot ladder cutting back some trees when he saw the yellow pickup "zooming" up the Tongas' gravel driveway just a few yards away. Hardy said a shirtless black man clung to the top and side of the truck while standing in the bed, begging her to stop the vehicle. "He was banging on the top, on the doors, screaming at the lady, 'We need to talk,'" Hardy said. "He said, 'If you take off, I'm going to jump off the truck and kill myself.'" Hardy said she stopped, hesitating at the end of the driveway, and took off. Soon afterward, emergency dispatchers got at least two calls to 911.

One came from a woman driving behind the truck. "I'm driving behind a yellow F-150, there's a black man on it with no shirt, he's got his arm in a cast," the woman reports. "He's beating on the truck … I don't know if he's trying to break in it or something crazy."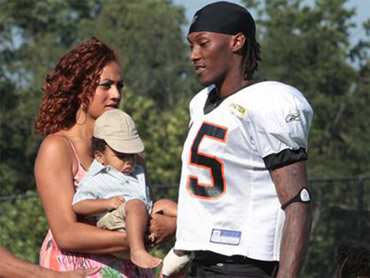 Then this call: "I need an ambulance now," a man said when he called dispatch. "There's a man laying in the road … he looks dead, there's no movement." The caller goes on to tell emergency dispatchers that a crowd of people were standing around Henry. Someone was taking his pulse.

The spot where Henry hit the pavement was just a half-mile from Tonga's family home. According to police, Tonga stopped immediately and rushed to his side. "She pulled the vehicle over to get out and help," said Charlotte-Mecklenburg police spokeswoman Officer Rosalyn Harrington. No charges have been filed by police in connection with the incident. "Even though this is a high-profile case, we are treating it like any other case in Charlotte," Harrington said. About 6:30 a.m. Thursday, after hours of hoping and praying by family, friends and fans for a miraculous recovery, Henry died at Carolinas Medical Center south of downtown Charlotte.

He leaves behind three children. He and Tonga had two children together, Chris Jr., 2, and DeMarcus, 1. Few details of the police investigation have been released. As national media flocked to Charlotte, neighbors of the Tonga family watched the situation unfold outside their front doors. Hardy said the Tongas have been great neighbors, occupying three properties that surround his. The Tongas' son often mows his grass without being asked, he said. The Tongas, a Mormon family with ties to Fort Bragg, are very close, Hardy said.

He and other neighbors mentioned that the family invited them to large luaus at their home with roasting pigs and hula dancing. "They came and got my girls for trick-or-treat and a big Easter egg hunt," said Jamie Dunn, who is friends with Loleini Tonga's sister and lives across the street. "They are just a really friendly family," Dunn said.

Neither the Tongas nor the Henrys have released statements to The Enquirer since Henry died. Henry's agent David Lee said they are destroyed by his death. The injuries he sustained are a mystery at this point. Hospital officials would not even say Henry had been treated there Wednesday. According to an investigator with the local medical examiner in Charlotte, Henry's body had not been received by their office or the morgue by mid-day Thursday. Once the body is received, preliminary details like cause of death may be available as soon as Friday, she said.

Charlotte bartender and sports fanatic Al Harris recalled other tragedies that have befallen on athletes in Charlotte, N.C. He rattled off tragedies like Fred Lane, a Carolina Panthers running back who was shot and killed by his wife in July 2000; and Bobby Phills, a Charlotte Hornets basketball player who died street racing after practice. There's also Rae Carruth, a former first-round pick of the NFL's Carolina Panthers who was convicted for hiring a hit man who shot and killed his pregnant girlfriend. "I'm telling you," Harris said. "Charlotte's cursed."

SOURCE
Be the first to receive breaking news alerts and more stories like this by subscribing to our mailing list.