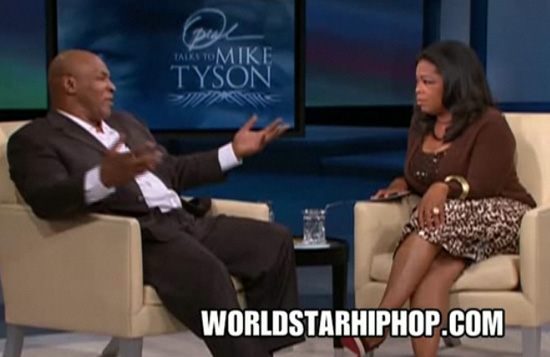 Retired championship boxer Mike Tyson was a special guest on Monday's (Oct 12) episode of "The Oprah Winfrey Show." But this wasn't the same Mike Tyson we knew in the media back in the day. This was a new Mike Tyson, ready to focus on his family and try to change the way the public sees him. He told Oprah he was "tired of failing."
Tyson opened up about most of his headline-grabbing actions over the years, including his years in prison, his tempestuous eight-month marriage to Robin Givens, his long addiction to drugs, the $400 million fortune he squandered, the 1997 comeback match in which he bit Evander Holyfield's ear, and — for the first time — the death of his 4-year-old daughter earlier this year.
Continue reading for the full 40 minute video!

The key development in Tyson's life stems from what seems to be a newfound self-awareness following his participation in the movie "Tyson," a documentary about his life filmed as he went through rehab two years ago. "If I'm not conscious of who I am, I'm just going to let myself run [wild], and I'm going to destroy my beautiful family, and I'm going to destroy myself, and I don't want to go down that road any more," he said.

Tyson ranged from terse to surprisingly candid as Winfrey asked the fallen champion about his checkered past, and he delivered eye-opening quotes about Givens and Holyfield while remaining somewhat tightlipped about the specifics of his daughter's death.

On choosing not to know the details of his daughter's accidental death: "I don't know. I don't want to know. If I know … [then] somebody's to blame for it, and if somebody's to blame for it, there are going to be problems." The quote seems to insinuate that he doesn't want to be mad at his ex-wife or any of his other children who might be found at fault for the freak accident in which daughter Exodus was found unconscious and tangled in a cord hanging from an exercise machine.

On the "20/20" interview in which he sat idly while Givens called him manic-depressive and said that life with Tyson was "pure hell" and "torture": Tyson explained that the marriage was abusive "both ways" — that he battered Givens, but that she abused him emotionally.

On the Holyfield incident: "I was pissed off that he was such a great fighter … I was just mad at him." Tyson said that after the incident, "I didn't feel guilty at all," and that the apology he delivered "wasn't sincere."

On why he hasn't spoken to Holyfield since: "I see him sometimes, I think he's a little leery of me." Tyson added, "I just want to apologize. I've known him for such a long time, and I was just undisciplined. I was in a very competitive mood and I wanted so desperately to beat him for my own self-aggrandizement, and I was just upset."

On whether his current family-oriented, monogamous life is boring: "I know I don't have two more years to live if I live this life." (By "this life," he means his former hard-living world of drugs, women, and bankruptcy.)

In all, Tyson was more candid than most athletes are willing to be in today's professional-sports landscape. But then, Mike Tyson has a lot more baggage to unload, too.

SOURCE
Be the first to receive breaking news alerts and more stories like this by subscribing to our mailing list.