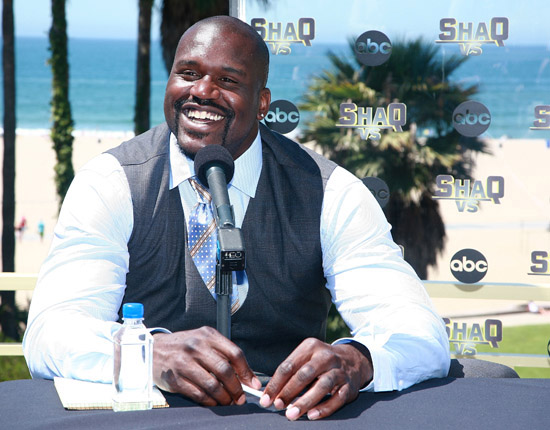 NBA star Shaquille O'Neal attended a press conference for his new television show, "Shaq Vs," at the Loews Santa Monica Hotel Wednesday (Aug 5) in Santa Monica, CA. In the new ABC reality series, Shaq will take on Pittsburgh Steelers quarterback Ben Roethlisberger in football, Michael Phelps in swimming, Serena Williams in tennis and other famous athletes in their respective sports. There will, of course, be negotiations of a handicap before the big man takes on his competitors; for instance, Michael Phelps may have to swim 2 or 3 laps for every lap that Shaq swims, just to be fair.
Shaq told USA Today he came up with the idea of the show as a way to train for his upcoming NBA season as a Cleveland Cavalier. He believes people would definitely be interested in the idea of an athlete playing another sport. According to USA Today, episodes will show O'Neal as he prepares for the challenges, hosts news conferences and spends time with needy kids before climaxing with the main event.
The show premieres on ABC next Tuesday, August 18th at 9/8c.
PHOTOS: WIRE IMAGE / GETTY IMAGES
Be the first to receive breaking news alerts and more stories like this by subscribing to our mailing list.