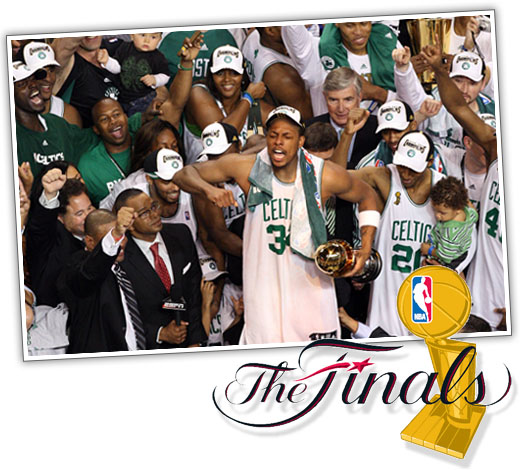 The Boston Celtics deserved the win they conquered last night after playing 6 games against the Los Angeles Lakers. It's been 22 years since Boston won a a championship and it'll be the first ring for all of the current players on the Celtics roster and the 17th championship the team has ever won. I'm somewhat proud of the Celtics for beating the Lakers! That's a huge accomplishment! The Celtics blew the Lakers out of the water in Game 6 with a win by 39 points (131-92). The Celtics lead the series (4-2). MVP of the Finals series came out to be Paul Pierce, who had 17 points, 10 assists and 3 rebounds. Kevin Garnett totaled 26 points, 14 rebounds and 4 assists. Ray Allen scored 26 points, 4 rebounds and 2 assists. Paul Pierce said proudly after the game's end:
"It means so much more because these are the guys, the Havliceks, the Bill Russells, the Cousys", said Pierce "These guys started what's going on with those banners. They don't hang up any other banners but champitonship ones and now I'm a part of it."
I'm not especially happy that the Celtics beat my favorite team, but there is always next year. The best team won last night and made history. They are also an all African-American team including the coach! Congratulations Celtics! Until next year … GO LAKERS!
Be the first to receive breaking news alerts and more stories like this by subscribing to our mailing list.