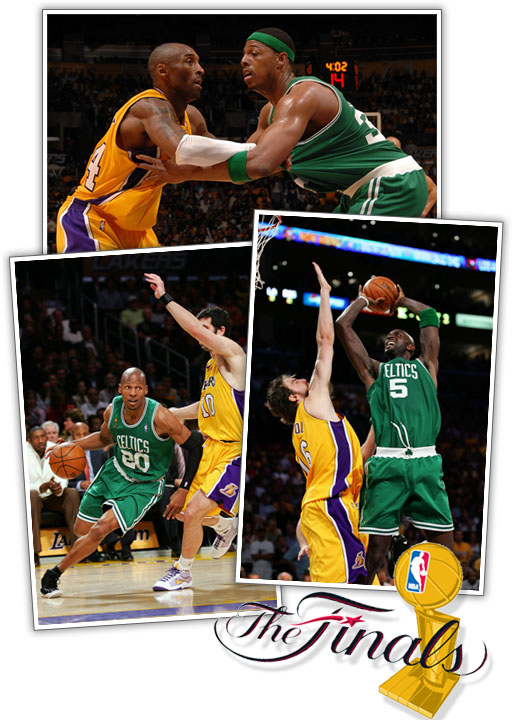 The Boston Celtics won at the Staples Center against the Los Angeles Lakers last night and took the 3rd game of the series (3-1). I can't even see how this was possible last night. The Lakers had a 24 point lead and lost it! The Celtics deserved to win last night. To comeback from a 20 point lead playing the Lakers, you definitely need a pat on the back! One of greatest comebacks in history! The Celtics won by 6 (97-91). Ray Allen scored 19 points, 9 rebounds and 2 assists. Paul Pierce totaled 20 points, 7 assists and 4 rebounds. Kevin Garnett had 16 points, 11 rebounds and 3 assists. Paul Pierce trying not get too excited after the 3rd win said last night:
"I don't want to get overjoyed," Pierce said. "I want to go out there to try and win Game 5 on Father's Day and then I'll be able to breathe. Right now, I'm waiting to exhale."
This probably had to be one of the worst games Kobe Bryant played throughout the whole season. Kobe should've been in the game all 4 quarters. Bryant had 17 points, 10 assists and 4 rebounds. Lamar Odom scored 19 points, 10 rebounds and 4 assists. Pau Gasol totaled 17 points, 10 rebounds and 2 assists. Kobe responded about the loss in Game 4:
"They were determined not to let me beat them tonight," he said. "I saw three, four bodies every time I touched the ball."
Check out video reactions below! Game 5 airs Sunday (June 15) @ 9PM on ABC!
Be the first to receive breaking news alerts and more stories like this by subscribing to our mailing list.