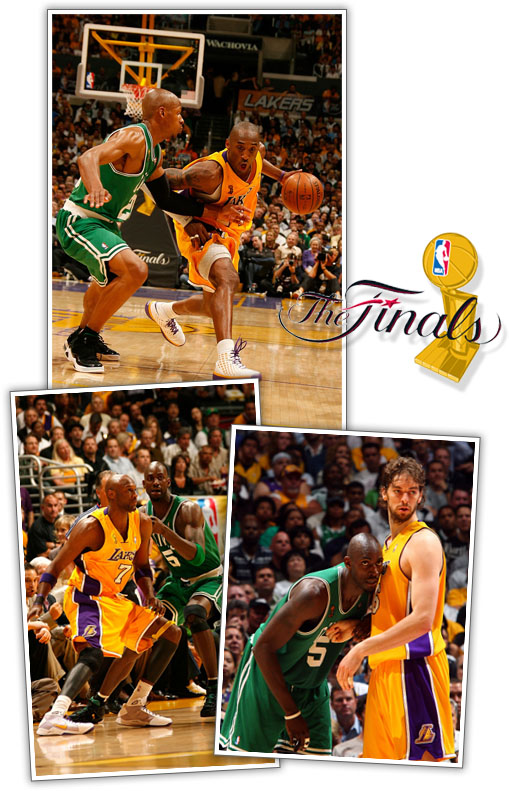 (PHOTOS: GETTY IMAGES)
Kobe Bryant lead the Los Angeles Lakers to their first victory against the Boston Celtics in Game 3. The Celtics weren't happy at all. Did they really think they'll sweep the Lakers? The Lakers won by 6 (87-81). Boston is still leading the series (2-1). The Lakers proved that they can come home and defend their court the same way the Celtics did in Boston. Kobe Bryant scored a total of 36 points and 7 rebounds. Pau Gasol had 9 points and 12 assists. Sasha Vujacic had to regain some recognition after the loss in Game 2 scoring 20 points and 4 rebounds last night. Kobe knew he had to guide his team last night and give them energy:
"What I tried to do with my teammates is just stay calm," Kobe said. "It wasn't the end of the world. They did a great job of defending home court. We knew we had to come here and do the same. They feed off of my confidence and I have all the confidence in the world that we can come here and win."
Kevin Garnett totaled 13 points, 14 rebounds and 5 assists. Ray Allen scored 25 points, 5 rebounds and 2 assists. Paul Pierce put up 6 points, 6 rebounds and 3 assists. Ray Allen took the positive route to looking at the loss by saying:
"As bad as we played, we still had opportunities," Allen said. "That's the positive. We can look at it, but I don't think on either side of the floor we were good. We had so much more room for improvement."
Game 4 airs Thursday (June 12) on ABC @ 9PM. Check out Game 3 video reactions below.
Be the first to receive breaking news alerts and more stories like this by subscribing to our mailing list.