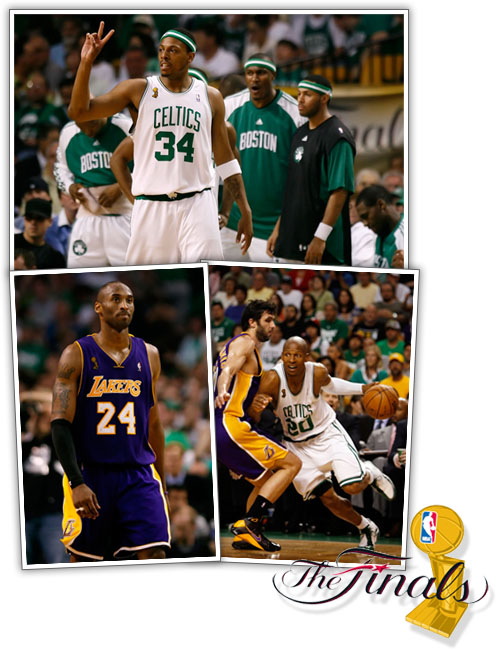 (Photos: Getty Images)
The Boston Celtics wins at home against the Los Angeles Lakers again in Game 2 by 6 (108-102). The Celtics definitely got some luck of the leprechauns and 4-leaf clovers last night. The Celtics are leading the series (2-0)! I expected the Celtics to win at The Garden but never did I think two in a row! The Lakers need to step their game up. I think it'll definitely be better in Game 3. Paul Pierce totaled 28 points, 8 assists and 4 rebounds. Kevin Garnett put up 17 points and 14 rebounds. Rajon Rondo contributed 16 assists and 6 rebounds. Pierce responded about the win last night:
"We're happy because we won, but we definitely learned a lesson," Pierce said.
Kobe Bryant scored 30 points, 8 assists and 4 rebounds. Pau Gasol had 17 points, 10 rebounds and 4 assists. Lamar Odom totaled 10 points, 8 rebounds and 2 assists. After the game reporters told Kobe that the whistles today was one-sided, Kobe responded:
"I didn't notice," Bryant said, cracking a smile.
Game 3 airs Tuesday (June 10) @ 9PM on ABC. Click play on the video below for reactions after Game 2.
Be the first to receive breaking news alerts and more stories like this by subscribing to our mailing list.